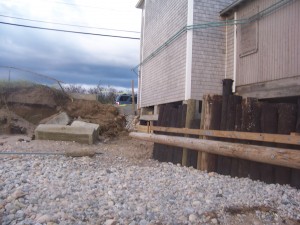 The Town of South Kingstown will once again appear before the Coastal Resources Management Council (CRMC) to plead its case in support of emergency construction of a 202 ft sheet pile wall/riprap armament structure along a crucial stretch of Matunuck Beach Road. The issue before the council: "imminent peril" for Matunuck residents should the road fail.
The original request filed in September 2011 was heard before the full council on April 10, 2012 and denied  as Town officials, residents and environmental concerns sought an alternative to construction.
The Town of South Kingstown whose responsibility for public health and welfare overshadows the issue of private property and shoreline protections, has expended approximately $45,000 in engineering expenses and clocked hundreds of man hours in its efforts to protect the road.
Primary concern for reconsideration is the critical state of a section of Matunuck Headlands shoreline wrought with years of sustained erosion from the waters of Block Island Sound to the south. The 202 ft. stretch of headlands directly abuts Matunuck Beach Road, the sole road and emergency services access to the homes and businesses to the east. The road infrastructure houses the community water line, also a public safety concern.
The hearing will take place in the South Kingstown High School auditorium at 6:00 pm tonight.