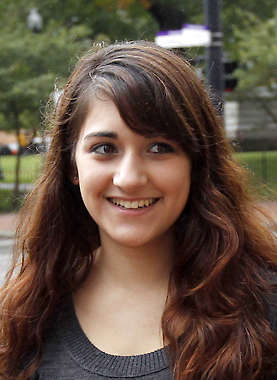 My niece, Jessica Ahlquist, has received dozens of awards for her brave stance in challenging the constitutionality of a Christian prayer affixed to the wall of her Cranston high school. In the wake of winning her case, the outcome of which was never in doubt given the strong, 50 years of legal precedent, she faced death threats and rape threats and abhorrent treatment from the media, her mayor, her state representative, school department officials, teachers, fellow students and complete strangers.
Online, in comments and in news articles, Jessica has been accused of doing it for the money, even though she only asked for damages amounting to five dollars. On the radio, John DePetro and his callers have been particularly nasty, and DePetro does nothing to discourage the trivialization and sexualization of my niece on his show. DePetro's unhealthy obsession with my niece began with him tweeting her when she was just 16 years old, odd behavior for a man with children her age.
Recently news broke that Jessica will be receiving another award, this one from Playboy Magazine founder Hugh Hefner. This has led to another round of hyperbolic media and accusations that this is all some sort of money grab on her part, even though the award she's winning did not even exist when she began her case.
But reason was never something Jessica's critics made use of.
Last year the same award was given to Zack Kopplin, another high school atheist, this time from from Louisiana, who fought against the teaching of Biblically based and oxymoronically entitled "creation science" in his schools. No hue and cry was raised when this young man went to California to receive his award.
But Jessica is an attractive young woman. Critics seem unable to avoid the sexualization of my niece, never mind that she is not even eighteen years old. Callers on John DePetro's show practically salivate as they create lurid fantasies about my niece visiting the Playboy Mansion to receive the Hugh Hefner First Amendment Award for Education. Their religious repression and inability to articulate sentences with meaning are on full display.
This is all the more ironic considering the fact that even now John DePetro is fighting off accusations that he made inappropriate sexual advances towards an employee. For a man of DePetro's low character and reputation to call into question the dignity and honor of my niece is a sad stain on Rhode Island media. If DePetro were capable of shame, he would become a cave hermit, permanently removing himself from the sight of his fellow humans. Unfortunately for us all, DePetro continues his endless assault on public decency with my niece as his target.
And let's be clear about what Jessica did to earn Depetro's wrath:
She stood up for the Constitution of the United States, the same document public officials swear to uphold and for which our young soldiers die every week in two ongoing foreign wars. Not only did she stand up for what she believed in, but she had the temerity to win her case, with a judge's decision that was unequivocally in her favor.
Jessica was right.
And for that, to this day, she is the target of those who don't understand or don't care that this is a nation that protects religious conviction from government intrusion and protects government from theocratic laws.
Those who attack my niece display the worst excesses and ugliness of religion in America today. They are beneath contempt.
In defense of my niece Jessica Ahlquist

,