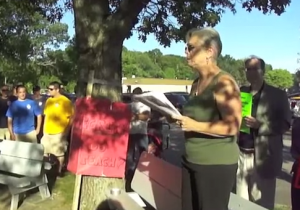 It's a growing trend among the anti-organized labor movement and those who worship at the church of small government: fire public school custodians and outsource their jobs to Corporate America. North Kingstown is the latest town to consider this very draconian move but other local municipalities have as well, such as East Greenwich and Portsmouth – both of whom abandoned the effort after community concerns over class warfare.
To those who support such public sector outsourcing, it is a very black and white issue. Governments, they say, are in the business of providing services not jobs and if and when money can be saved for the taxpayer, it should be.
But detractors often see a more nuanced situation, or more complex economic ramifications.
First, the savings aren't worth the costs. In East Greenwich, for example, firing the custodians would have saved the average property taxpayer about $13 a year. Because NK has not yet agreed to terms with the private company, any savings are still unknown. But compare that to the $11,000 a year pay cut Tom Keenan will take if the School Committee outsources his job. While the deal isn't done in NK, he is already employed by the private company at a $5 an hour pay cut.
It begs the question: how many taxpayer dollars equal one person's financial security? The answer, at the very least, is that, morally, we should all be willing to cough up the price of a pizza a year to keep our neighbor solvent. But forget about doing what's right for a moment, even from an economic perspective the juice just isn't worth the squeeze.
Secondly, the savings aren't even real. I don't know much about GSA, the Tennessee-based company North Kingstown is considering doing business with, but I promise you they are not in business to save taxpayers money. Any school committee that thinks it is going to be easier to negotiate a contract with a faceless big national corporation than with organized janitors is fooling itself. The only difference is the taxpayer dollars will be going to rich people in Tennessee rather than working class people in North Kingstown, where more than half of the school custodians live in town. Any savings that are realized will come directly from the pockets of the 26 custodians.
Those are the economic arguments against outsourcing the daily cleaning and conditioning of our schools. The social arguments against this type of outsourcing are a little harder to quantify. One involves the safety of the students, and there are multiple media accounts of GSA employing sex offenders. (See here, here and here.) This alone should be of great concern to North Kingstown residents.
Then, there are the intangibles. Custodians happy with their jobs will be more likely to look through a dumpster for your kids expensive retainer, and will probably do a better job of cleaning the toilet your kid sits on.
Custodians can also be the most important role model one can have in school. Or at least one was for me.
When I was in elementary school I had a little more energy than some of the other students and every once in a while it landed me in a bit of trouble. One time I brought an Eddie Murphy cassette tape to school and when I brazenly played it at recess (quite possibly my first test of the First Amendment). The school's legendary principal Jim Foster introduced me to school custodian Bobby Taylor. Well, actually he remanded me to help him clean the school.
It turned into a summer job and Taylor paid me $5 an hour to help him spruce up the school. We became fast friends, and he was one of the first adults I knew personally who worked with his hands for a living – something that can be really inspirational for a hyperactive kid. Taylor, us students assumed, was developmentally disabled; we based this on his severe stutter and the fact that he rode a bike instead of driving a car to work. He may well be somewhat slow in clinical terms, but the Bobby Taylor I knew was every bit as smart as any other adult I happened to know as an 11-year-old in East Greenwich.
I still see Bobby Taylor riding his bike around town, and every time I do I recall that one of the first truly great teachers I ever had wasn't a teacher at all. He was a school custodian.
Why In-House Custodians Matter to Residents

,