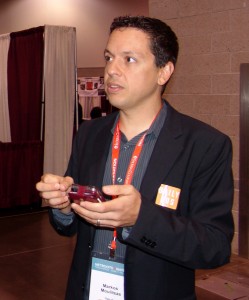 There are many dark and mysterious places on this planet.  I assume they would also exist throughout the universe although I can't be sure because when I bought my telescope as a kid, I assumed heavenly bodies meant those found in the house across the street.
Anyway, many would find at least some of these places interesting to visit or at least read about, others, maybe not so much.  For example, there is no shortage of people who would find Netroots Nation a dark and mysterious place, better left alone, mocked, and avoided at all costs, while others flock to it in the hope of creating a better world.
I'm not talking about the men's room at the Rhode Island Convention Center that ran out of toilet paper during this year's Netroots Convention, although the two of us sitting in adjacent stalls asking if we could each "spare a square" were convinced we were in some special exhibit allowing us to act out being in a sitcom.
When it comes to dark, mysterious places where one treads with great care, one candidate might be the mind of Markos Molitsas, founder and editor of the Daily Kos, the first significant, often controversial progressive blog,  and principal promoter of Netroots Nation, the annual conference that brings progressives together to learn, network, and build an infrastructure to fight for progressive candidates and policies, and battle the evil Republicans (and sometimes, Democrats).  Netroots, in case you have been hibernating the last few years, refers to political campaigning and advocacy via online technology (I.e. email, websites, blogs, Twitter, Facebook, Tumblir, Mumbler, Bumbler, Fuckster,  and too many others to name), as opposed to say grassroots (campaigning on grass) and cementroots (campaigning on sidewalks or campaigning for the mob, I'm not sure which). Not sure if campaigning by phone is phoneroots or teleroots.
I asked Markos (often found holding court at his booth and taking pictures with attendees) on convention day 1 if I could interview him at some point and he was kind enough to do a 40 minute interview the next day, shocking for me since most people's reaction when I ask is to run away or claim they would prefer to schedule a dentist appointment. So, without further or due, let's bring you inside the mind of Markos Moulitsas and let you decide if it's a place you dare to tread or embrace with open arms.
AS SOMEONE WHO HAS BEEN A KEY PLAYER IN THE PROGRESSIVE MOVEMENT FOR THE LAST SEVERAL YEARS, WHAT DO YOU SEE AS THE MAJOR PROBLEMS FACING THE MOVEMENT AND HOW WILL THE CONFERENCE HELP ADDRESS THEM?
Markos: Nothing will ever get solved without growing a broad base of action and support and evangelizing the broader American public and electorate.  Conservatives have spent decades building an infrastructure that allows them to develop a message, sell that message and get that message passed into legislation by various legislative bodies at the state, local and federal level. They've been doing this for decades – we're looking ahead to the next election,  constantly recreating the wheel. We need to continue building those institutions and organizations that do exactly what conservatives do.
Like I said, it's creating a message, selling that message, and trying to get that message passed into legislation. Right now I've got to say the most effective at this in recent years has been the gay rights movement, the equality movement. They've been able to take something like gay marriage that had been considered pie in the sky just a decade ago. If you remember in 2004 when Howard Dean was running for President, he was considered too liberal because civil unions had passed in Vermont. Now civil unions are considered like weak sauce, now it's all about gay marriage and gay marriage is now the majority position with the American public. In a matter of 8 years that's insane among a movement about what is a very divisive social issue. So it can be done, it is done,  so we have to learn those lessons and bond those lessons to the movement at large.
WHAT ARE SOME OF THE SPECIFIC PROBLEMS?
Markos:  Obviously each problem has its own solutions, but broadly speaking, it really comes down to creating the ability to, the foundation to be able to first, identify the problem, then craft the solutions. But as liberals we're good at that, we always have solutions, we're policy wonks. I don't mean me, but broader people. If you want to talk about programs and solving the problem, pull out the pie charts, statistics, and spreadsheets, its all fantastic and makes a lot of sense at the intellectual level. We've done poorly at the emotional, gut level. That's how you sell things. Coke and Pepsi,  they don't sell things by showing you things like the ingredient list,  and saying everything's great. You craft a campaign that speaks to lifestyle that hits at an emotional level. That's how you get people to drink Coke and Pepsi.
Conservatives are very good at this,  such as the inheritance tax, calling it a death tax. The ability to take issues, sometimes complex ones,  and boil them down to two word, three word sound bytes. And as much as we'd like to scoff at that, it's ridiculous and no one is going to buy it, people do because it's easy to grasp, built on repetition, and they build a media machine that can blast it out and reach the  entirety of the movement within a week. We have 30 million Rush Limbaugh weekly viewers that basically hit 30-40% or the Republican electorate on a weekly basis and there is nothing remotely comparable to that on the left.
IF YOU COULD GO UP TO GOVERNMENT CENTRAL AND CHANGE ANYTHING, WHAT WOULD YOU CHANGE?
Number 1 is  getting rid of the filibuster because you are creating a democratic Senate.  To me, I'm less concerned about individual policy solutions. You want to get to the liberal problem so if you are going to talk about specific policy solutions we don't have the mechanism to implement them so it's almost pointless because we are not capable. So you create a Senate that is first of all, democratic, where majority rules and if Republicans grab control of the Senate, well good for them.
That's what democracy is. I may not like it, but the people have spoken.  I'm not going to be offended, I'm going to work like hell to  make sure the next Senate looks a little different but if someone wins the Senate, they should be able to legislate. It's just that simple. And we don't have that so we don't have accountability. We don't even have visibility who is influencing legislation. There's got to be transparency. To me, before we get into the issues or specific policy solutions, I'd be looking at creating a government that is transparent, it's demonstrative, it's democratic, and responsive to the will of the voters.
2. If I could waive the magic wand, it would be a Constitutional amendment reversing Citizens United. The effect of the money is pernicious but even before that, before a Constitutional amendment, if we can't get 60 votes, we're not going to get 67 votes in either chamber of Congress. So what do we do? We have to disclose that so if you are going to drop in millions of dollars, you should disclose who you are, you shouldn't be able to hide because we don't know if there is foreign money involved. You don't know. Sunlight is always the best disinfectant. It doesn't always work that way, I'd rather not have to disinfect in the first place, I'd rather have a clean kitchen that we wouldn't have to clean up but since we don't have that choice right now because of Citizens United, let's at least find out who's putting money into the election and make sure it's legitimate money, not illegal foreign money. It's not going to fix the problem, but there are plenty of billionaires like Sheldon Adelson who don't care about anonymity but a lot of them do. If you want freedom of speech, I need to see you.
THERE IS A LOT OF DISCUSSION AT THIS CONFERENCE ABOUT DEMOCRATS NOT ACTING DEMOCRATIC. HOW IS THAT?
Markos:  It's a long term problem. The conservative movement really kicked off in 1964 when Barry Goldwater lost. Now we're 50 years later and they are still cleaning house.  So we look at this, here's the problem. The modern progressive movement really kicked off in 2002 and 2003. We won in 2006 and 2008 and everyone thought well that was good.  Exactly, we rocked it. The problem was that we didn't win because we reached parity with other institutions, we won because George Bush was the worst President ever.  So now the reality starts to set in, they get their shit together and they came back in 2010 and in 2012 it's going to be a lot closer than it should be by all rights.
To me it's a bunch of influences, some democrats aren't acting democratic.  Immigration might be a big issue and they may be anti-immigration. I'll hate them.
ARE THEY AGAINST ILLEGAL OR ALL IMMIGRATION?
They're against the Dream Act or against comprehensive immigration reform. I'll hate them for it, but to me that's not a solid Democrat, someone who has taken populist principles and filtered them out, because of Wall Street money. The Delaware delegation was bought and paid for by special interests. There's a lot of them, a lot of the small state guys get bought out easy.    So the issue is they started the movement in 1964, they didn't win the White House until 1980 so you're looking at 16 years. They didn't win the Congress until 1994, and they're still trying to clean house – they've gone off the deep end trying to clean house but they're still engaged in that process.
We started in 2002, so 10 years in we're in our first decade and we've made some progress. We have Al Franken, we have Sherrod Brown and Barbara Boxer was around already but she's now solidified. We have the first nuggets of a better progressive Democratic Party but most of the Democrats have been entrenched for decades and slowly and gradually we're going to clean house and clean it up but for the conservatives, they are in year 50 of purifying the party, cleaning it up, making it more ideologically and we're just in year 10 so we're way behind on a timeline. We can't expect everything to happen overnight.
HOW MUCH OF A PROBLEM FOR PROGRESSIVES ARE THE PENSION ISSUES THAT ARE FOREFRONT AND CENTER?
Markos: To me, the unions are one of the last bastions of the middle class. They haven't been decimated by corporate America and they are in the process of being eliminated, systematically eliminated by a group of people who want to hoard capitalism for themselves so unions make it harder to do that.
WHAT ABOUT PENSIONS BEING TOO HIGH, TAKING MONEY AWAY FROM THOSE WHO NEED IT, AND HURTING CREDIBILITY?
They are negotiated, it's called a deal. It might be a tough sell. Being a teacher is a shitty job. One of the few perks you have is a pension.  If you are working with my kids, you should be paid a lot more and you should be rewarded. If you want to pay them more for a smaller pension, do that.
WHAT ABOUT THE IMPACT ON CITIES AND TOWNS?
We have had recessions in the past. What you do is go in the red, then invest, then eventually you grow out of it. It's the exact opposite of what's happening in Europe and exact opposite of what's been done here. You don't cut back because you don't grow when you cut jobs. Henry Ford wanted to cut wages, I mean this is one of the legends. Henry Ford's like why are we paying people so much and the answer is who do you think is going to buy your cars.  You have a system of people who want to slash and cut and by losing jobs by cutting the budget, you are eliminating the jobs and potential economic engine and growth that will allow us to get out of the red.
HOW ABOUT A PERCEPTION PROBLEM? A MEMBER OF THE SHEET METAL'S UNION WHO WAS IN WISCONSIN SAID UNIONS HAVE TO BE CONCERNED ABOUT THE PERCEPTION THEY ARE OUT FOR THEMSELVES FIRST
Absolutely, this goes back to the ability the of the right to sell their message. We don't even have the ability to craft the message. They create the message they sell the message and they implement the policy. We can't even agree on what the message is. much less sell it. That is a perception. it is amazing in fact, how much non union people supported collective bargaining the way they have even though it has been demonized the way it has. So people inherently understand that when you make a bargain or make a deal, you keep the deal, conservatives have done a fantastic job, they are all about keeping the bargain when it's benefiting their own
YOU SEE THIS PRIMARILY AS A MARKETING PROBLEM?
Yeah, messaging and marketing, you can't market without a message.
WHAT ADVICE WOULD YOU GIVE PRESIDENT OBAMA?
Barack Obama did a lot when he was running for re-election. He talked about bringing the country together, mending the division. Everyone talked about that. George Bush talked about that but nobody means it. He actually believed it and meant it and it was a detriment. It's one thing if you try to change the tone and you have an opposition that is willing to compromise and work with you but from day one they wanted to destroy Obama. Mitch McConnell said we wanted to destroy Barack Obama.  So you have people who from the start are out to destroy you.
You cannot negotiate with people who are political terrorists who are out to destroy you. No negotiation.
Some millionaire and billionaire liberal donors had Grover Norquist speak to them, I'm not sure why, but they kept saying what if we gave you this, would you then agree on raising taxes, and he said no. But what about this, no. Finally he says, you guys don't get it. There is no negotiation, it's no. It will not happen. And they were still like, but what if, and that's liberals. We want to come together when you have an opposition that's out to destroy you,
SO LIBERALS SHOULD BE THE SAME AS THE TEA PARTY – NO COMPROMISE?
How can you negotiate with political terrorists? Yes. Absolutely. How do you bring down terrorists? You degrade their capability, you fight fire with fire.  When they run up against a wall and aren't getting anything they want, because you are actually winning a war of ideas;  we rammed through the health care bill that we all wanted. I'm not talking single payer, I'm talking about the public options, which preserves the existing system that creates a government funded competition, We surrender, and surrender and surrender and when we still didn't get a republican vote, we passed the bill with all the surrenders in it. We pull back and pass the original bill. Fine, you don't want to negotiate, what's the incentive to negotiate when we concede time and time again, and then if we manage to get something through, it's the concessions.
DO YOU THINK PRESIDENT OBAMA GETS THAT NOW?
I don't know if he gets it. My advice to him would be, you can't concede to bullies, terrorists is too loaded a term, bullies, political bullies, you cannot concede to them when they are punching you. You've got to fight back.  You fight back, you make them cry uncle, and that's when they come to the table. If they don't come to the table, what's the loss because they are not at the table already.  They are not going to work with you, they don't like you. They think you are illegitimate, they don't even think you are an American, much less think you have American values. How can you negotiate with them, it has been a failure.
To me, it was very telling that at the debt limit battle last year, when Obama kept caving and caving in to Boehner and they kept moving the goal posts well, we'll do it if you do this, the Obama people  and his supporters online  kept saying we should be the grownups in the room. First we learned that being the grownup in the room wasn't worth anything in 2010. That was the lowest point in Obama's poll numbers because he looked weak. People don't want someone who's constantly, you know, it's like the battered wife syndrome, they're beating the shit out of him and he kept going back for more – it was embarrassing, so now he obviously  struck  a more strident tone but even now, when he's supposed to be in rally-the-base-mode and the base is going to vote for him, they may do some work for him, but it's not 2008.
WILL THE YOUTH COME OUT FOR HIM?
They've seen him absolutely cave in to Republicans time and time again. They don't like the Republicans. It's not like the Republicans are picking it up. So how are they going to get excited about the guy? In fact, they always talk about that maybe in the lame duck session, after the election, well that's really going to motivate people to come out and vote.
WHAT'S YOUR MESSAGE TO DEMOCRATIC PARTY?
You need to recognize that you have an opposition that is out to destroy you.  Until you re-opt in kind, if they stand down, it's just like any war, right.  You fight, maybe you hold your ground, may be you make some advances, that's when they sue for peace. They aren't going to sue for peace when you are on the defensive and retreating. They should. They are smart. We are not.
It would be political malpractice for them to negotiate with the Democrats right now, given our track record and ability to hold the ground on anything, we haven't held the ground on anything. It's embarrassing. Social Security should be the most basic — we should be treating it like Grover Norquist treats taxes, it's non negotiable, it ain't going to be on the table.
ANY MESSAGE TO THE UNIONS?
The unions know what their problems are. It's a perception problem.  Republicans have been trying to legislate them out of existence. This is systematic. The Republicans are trying to legislate them out of existence just like they are trying to legislate trial lawyers out of existence.  They are looking at systematically hitting at every targeted constituency of the party — not just funding — they're going after democratic constituencies. If they were Republican voters, we wouldn't even be having this debate.
ARE DEMOCRATIC COMMENTATORS SAYING WISCONSIN WAS PRIMARILY BEING OUTSPENT, HELPING OR HURTING?
The reality is we were outspent 20 to 1. That was a big cause. Wisconsin was a procedural issue. 10% right off the bat said most don't agree with recall no matter what, and many were progressive, good government types.
WAS IT A MISTAKE TO DO IT?
No, you always fight. You show fight. I think it was a mistake for Obama not to show up. How does he expect people to fight for him when he won't fight for them?
WHAT DO YOU SAY TO PROGRESSIVE MAYORS SUCH AS ANGEL TAVARES THAT HAVE TO DEAL WITH UNION PENSIONS OR THEIR COMMUNITIES FACE BANKRUPTCY OR OTHER FINANCIAL PROBLEMS?
Not familiar with local issues. It's just not in my realm of expertise. I'm an elections guy.
WHAT DO YOU WANT TO SEE  COMING OUT OF NETROOTS?
To me the best thing I've gotten out of this conference, is — because I don't get to go to the sessions, it's just I've given up trying. I used to get disappointed every year. Finally i realized I don't get disappointed if I don't get the expectations. A Reporter talked to me and said, the Boston Phoenix guy, what's amazing at this conference and kind of surprised me is that the sessions that deal with practical organizing and how to wage politics, as opposed to how bad things are — those sessions are packed. People aren't coming here to be fed red meat, they are sold. They don't need to be told how terrible the Republicans are or about the economy, this or that.  They want to know exactly what they are going to do about it.
To me, that's the message here. We are all here collectively building infrastructure. We all have little corners. Every booth here has a little corner of this progressive movement and are all doing their part to build the machinery Republicans  have spent generations building, we're ten years in, we're still getting started, we're not even teenagers yet, but
HOW DOES TODAY COMPARE WITH WHAT YOU INITIALLY ENVISIONED?
For one, I didn't start this thing. Daily Kos media members started it. I get a lot of credit for this. It's amazing when we started this in Vegas in 2006, a couple of unions came in as sponsors  and we, the Netroots types, would look at them and go those are the dinosaurs that brought us to where we are today. And they would look at us as oh, a bunch of dorks with keyboards, they're going to change the world. What are they going to do, hit George Bush on their head with their laptop. And it was such disrespect, distrust and dismissal.
And now, it's — We may disagree on a race, but generally speaking, they know exactly what we bring to the table, we know exactly what they bring to the table. It's all valuable, we know where we belong, we know where we fit, we're a broader ecosystem, no dork on a computer is ever going to change the world, no labor organizer on the ground is ever going to change the world, collectively we're going to be much better so every year the bonds grow tighter, the movement grows, we have a lot of great organizations filling in niches that haven't been filled, and so for me, part of this conference is the activists learning the tools of the trade and part of it is all the networking that goes on between all these organizations that forges those bonds.
As long as I'm coming here, I'm meeting with other organizations who are figuring out ways because my role in this ecosystem is we amplify, we're a megaphone. So we're not issue based, but we're movement based, so how can we help these organizations fill their mission how can we amplify and how can we help people get involved with what they are doing and their campaigns. So people here can talk all the policy in the world but I'm about how to get these people together and educated in the tools of the trade to wage effective activism in the 21st century.
Before we took the House and the Senate, people would ask what's your position on this issue and I would say who cares. We're in the minority. Let's get the majority and I'll point you to people who know about those issues. I'm not a policy guy, I've got my hands full working on the organizing.
WHAT DO YOU SEE GOING FORWARD?
Ultimately it comes down to building those institutions and building a mass movement. People always used to say things like how will Daily Kos and Netroots Nation, you're just preaching to the choir. Absolutely, and if that was a bad thing, there would be no need for churches to exist. The first thing you do to build that movement is you build this church, the church of politics. And you use that to find your fellow travelers and come together as a congregation and learn and educate each other. But that's just the first step. No church survives as its own little self.  You have to spread out, you have to evangelize.
We're at the phase now of building this congregation but we also have to be more aggressive in marketing and sending that message out, to the broader American electorate and parts of the movement. The gay marriage movement has been absolutely steller, the amount of movement we have seen on gay marriage in just the last decade is like nothing we've ever seen.
On any divisive social issue, there are lessons to be learned there from each other so we can replicate those successes through other parts of the movement.
WHEN YOU WRITE, HOW CONCERNED ARE YOU WITH WHAT YOU WRITE – DO YOU THINK CAREFULLY ABOUT WHAT YOU ARE SAYING BEFORE SENDING IT OUT THERE? ARE YOU BACK ON MSNBC YET?
Laughing – I'm not very careful at all and it gets me in trouble all the time. Am I back on MSNBC, no I'm not. Joe Scarborough reached out to me and wants to meet with me next time I'm in New York. (Markos made a comment regarding Scarborough's dead intern issue – Google it if you don't know what I'm referring to.)
Part of my brand is that I was the first person to write about John Testa in any publication in 2005, much less 2006. We were one of his biggest fundraising sources for his primary, we helped get him through the primary, we helped raise a lot of money through the general election,  John Testa is somebody who without the Netroots, probably would not be Senator.  Then last year he voted against the Dream Act which is sort of a core principle. You don't punish kids. That's the number one rule of anybody, on any issue, you don't punish kids.
I emailed his Chief of Staff and said to him will you send John this message — tell him fuck you.  Someone who wants to play the inside game isn't going to do that. I'm not going to do that, it's total bullshit.  People know what they are getting with me. They know there's no bullshit involved. I'm not playing any games, it is what it is.  For people that like it, great. For people that don't like it great.  It makes my life more difficult a lot of times, but…
HOW DO YOU DEAL WITH THE PERCEPTION THAT YOU ARE JUST COMING FROM THE LEFT. HOW DOES THIS AFFECT TRYING TO ATTRACT THE MIDDLE?
To me, that whole argument that there's a big center is absolute bullshit, I just don't buy it. People lean Democrat or Republican. The people who are persuadable are those not paying attention to politics, and I'm not going to reach them anyway.  They're watching American Idol, I'm not going to reach them.
People are swinging back and forth not because they are ideologically pliable, but because they don't pay attention.  The people who pay attention even vaguely are going to lean one way or another, even if they say they are independent. A lot of people in the tea party crowd say they are independent yet they are more likely to vote Republican than self identified Republicans. A lot of people who don't like the Democrats but because they are weak and spineless say they are independents. But they are going to vote Democratic because the alternative is Republican.
WHAT ABOUT THOSE WHO MAY NOT VOTE?
If they are not going to vote, then they aren't part of the equation at this point.  I don't worry about the middle because every time you get America to the left, as you did in 08, the radical middle doesn't exit. A recent poll asked asked if Romney or Obama was too liberal, middle or conservative. Three percent think Romney or Obama are too liberal. A national poll with 3% margin of error. I don't give a shit about those guys, it's not going to be an issue for me.  Even if they existed, I'm the church, this is where we come for the true activists, people who are fighting hard, to improve our country. The Daily Kos is where people come to connect, get educated, and find out how we can help and how we can get active to reach those goals.
It's the politician' job to try to reach the middle. In 2010 you had a perfect example. You had the example of a party who had zero intention of reaching the middle, swinging so hard right that Lynn Bennet got ousted and Orin Hatch is fighting to survive under serious assault and he won big.
People said this will show how extreme Republicans are, it's going to activate them, motivate their base to be active. Since our side didn't react, we ran away from the tea party, it deactivated our side. The appropriate response would have been to fight back, fight fire with fire,  and instead of running away from them, had our politicians stood strong, we probably would have seen a very different 2010. Independents didn't swing that election, it's that they voted, we did not.
In Wisconsin, they had a better turnout than we did compared to 2008 where it was whoever turned out. It was impacted by some factors such as being in the summer and summer school was out, we had 80,000 less youth votes which could have swung the election because school was out. Tactically, there were tactical errors.  There is also those saying recall not acceptable. People really voted against the concept of the recall.
WAS IT WORTH IT TO TAKE BACK THE SENATE?
People kept saying the Senate was not going to meet again but they would have been called into special session had they won. Basically we just shut it down. With Scott Walker as Governor, it was probably a good thing.
HOW DO YOU RECOMMEND PEOPLE GETTING INVOLVED IN THE PROGRESSIVE MOVEMENT?
The whole concept of Netroots is what is Netroots. It was originally identified with blogging and is a word invented by a very good friend and blogging partner to mean waging politics online. In the old days, it was email and blogging. Today it's Twitter, Facebook, just talk to people in a circle. I can go on TV and talk to 150,000 or 500,000 – I don't know what ratings are, but I don't make the same connection each individual makes with their professional circle. You are more influential with your 20 friends than I ever will be with 500,000 people.
So use your tools that you have to talk to your network. Use Twitter, Facebook is obviously a good place to talk about activism, everyone is on Facebook except me. I am but not really. And if blogging is your thing, then just blog or use Tumblir.
There are different levels, if nothing else talk to your circle, then get involved with organizations dealing with issues you care about, whether it's the Sierra Club or join a bigger blog like the Daily Kos,  you can do that if that's your thing. I've never wanted to start the Daily Kos as a solution because it's not, it's a broad movement so whether its working with unions to try to organize or working with local labor, work with local democratic parties, or take them over if they're not doing anything. Run for office. Gradually move up levels of activity. The number 1 thing you can do is become an evangelist to your local social circle.
CONCLUSION
So there ya go.  Thanks to Markos for taking the time to enlighten us about what he and Netroots Nation  are all about. There is little doubt that through efforts such as Netroots Nation and other political activities, Markos and the new progressive movement are having at least some influence on the political process.  It will be especially interesting to see what the long term impact will be including electing progressive candidates and passing progressive legislation. Will they achieve victories here and there,  make a significant lasting impact, or pretty much be a non-issue?
Few will deny the Tea Party is having at least somewhat of an impact on the political process today.    But some, including Republicans, think their hard line, no compromise positions and sometimes extremist tendencies might doom their long term impact and/or hurt the Republican Party. Might the same happen to the progressive movement if they adopt a similar approach?
It's tough to argue with the fact that many Democrats and progressives need to go to marketing or PR school.  It seems like only yesterday when, when asked by Republicans whether they support the troops or want to win the Iraq war, they responded as if asked to describe the creation of the universe or the Taco Bell menu.  Today, some Democrats seem to have taken a side job, becoming marketing reps for Chick Fil-A,  and when President Obama tried to make the statement about the importance of government assistance with building infrastructure in many success stories, it seemed as if he consulted with Republican PR specialists to say it in the worst way possible.  Right now, Democrats are struggling with how to answer the what is apparently the exceedingly difficult question of whether people are better off today than 4 years ago. You can tell it's a difficult question when you notice administration officials taking a deep swallow and making a contorted face before answering, even before you have to listen to the often ridiculous, mumbling, inconsistent answers.
But if they pay attention at marketing school (assuming it's a decent school) they'll hear the point that your message isn't just what you decide to develop or communicate. The strongest, often unintentional messages being delivered often result from what you say or do in the course of everyday activities, such as fighting against public employee pension reform.  According to one union rep working in Wisconsin during that recent election and participating in a Rhode Island led workshop, and several others who spoke to me off the record, the ongoing exposure of public employee pensions and their impact on state and local governments, in addition to efforts to fight pension reform, are sending the message that public employee unions are out for themselves and their members more than the others they claim to support.  Some of this concern comes from within the progressive movement, including private sector union members, who see the problem at best, as a major PR problem and at worst, a policy issue that needs to be addressed.  In either case, many feel it's negatively impacting on the ability to  help the poor, middle class, women, children and seniors, pass progressive legislation, including increased taxes on the rich, and elect Democrats or progressives.
And while there are certainly Democrats bought and paid for by evil special interests, as we have seen with gay marriage, voter ID, illegal immigration, health care reform and other progressive issues, progressives are sometimes all over the place as to where they stand, and the extent they are willing to fight for or even publicly support them. Is it a mistake to think that the problems are mostly about marketing and message or that those not having certain positions or that are moderates or swing voters should not be considered progressives or ignored.
No matter which side of the political or ideological spectrum you are on, or if you think politics is little more than great or not so great entertainment, the one thing for sure is that it will be interesting to watch how this plays out and who the ultimate winners and losers are – not so much the politicians, special interests, or consultants but, lest we forget the main objective here – the rest of the public.