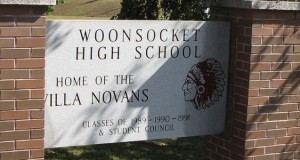 Is equal equitable with regard to state education funding? As it happens, even a progressive state funding formula isn't equitable when it comes to helping Rhode Island's economically diverse cities and towns provide an adequate education to all.
That's what Pawtucket and Woonsocket are arguing before the state Supreme Court in a case that claims the state is unconstitutionally depriving these two school districts of its ability to properly educate its children.
The Department of Education says that the state constitution doesn't obligate it to provide an adequate, equal or equitable education – only that it "promote" public education. Furthermore, many suburban school committee members, policy analysts and small government activists have pointed out that Rhode Island already imposes a progressive (i.e. not regressive) formula for funding local school districts based on need.
Comparing per-pupil spending between some of Rhode Island's richest suburbs and poorest cities, it seems they are correct. Barrington and East Greenwich get about 10 percent of their per-pupil education budget from the state and Woonsocket and Pawtucket get more than 60 percent per pupil from the state.  In 2014, the state will pay $8,562 per pupil in Woonsocket and $8,270 in Pawtucket. Conversely, the state will pay $1,056 per pupil in Barrington and $987 in East Greenwich. (Ed. note: RIDE does not keep per pupil state aid data, according to RIDE spokesman Elliot Krieger, but you can do the math by dividing column H of this spreadsheet by column A of this spreadsheet, according to RIDE's Office of Statewide Efficiencies Director Cynthia Brown.)
"At an order of magnitude difference Rhode Island's funding formula sure does a lot of work to equalize spending," said Jason Becker, who helped author the 2010 funding formula that Woonsocket and Pawtucket are challenging in court. "I don't see how the state could do more without dramatically increasing the amount of state funding for education. With our budget and revenue issues I don't see that happening anytime soon."
But even with a progressive funding formula (the previous formula was not dramatically different for the richest and poorest communities) the results have been unequivocally regressive.
Take NECAP test results, for example. Barrington and East Greenwich 11th graders both scored 70 percent proficient on their math NECAP while Woonsocket 11th graders were 21 percent proficient and in Pawtucket 20 percent were proficient.
Perhaps the answer lies not within how much the aid the state gives each district, but how much aid each district needs. As Becker notes, the state funding formula equalizes spending. Even though Woonsocket and Pawtucket students have vastly different educational needs than East Greenwich and Barrington students, all four educations cost roughly the same.
In 2011, the most recent year I was able to find data on RIDE's website, (Ed. note: still waiting to hear from RIDE Statewide Effeciencies Office if there is more recent data elsewhere), the average Woonsocket student cost $13,485 to educate and the average Pawtucket student cost $13,007. Meanwhile, the average East Greenwich student cost $13,973 and the average Barrington student cost $12,708. UPDATE: 2012 comparison here, courtesy of Elliot Krieger.
That may be equal. But considering the affluent suburbs seem to be able to do much more with a similar amount of money, it doesn't seem equitable. Not even close.
East Greenwich recently built a brand new, "state-of-the-art" middle school building and also completed three major construction projects at the high school including an astroturf football stadium, a new entrance facade and new science labs. And next year, the EG School Committee plans to give every high school student their own laptop computer and add a staff member to facilitate the new program.
Meanwhile, this is what Providence City Councilor Sam Zurier, who is litigating the equitable funding lawsuit on behalf of Pawtucket and Woonsocket, said about the situation in Pawtucket:
"Pawtucket cannot afford to issue a separate text book for every child in some of its schools. You have laboratories with mold in them, the plumbing doesn't work. You have classes in the elementary school that has two grades being taught by the same teacher. It's often the case that schools run out of paper this time of year."