Not in the slightest – we keep electing them into office!
In the weeks since I've announced my candidacy for Providence's State Representative District 8 (Federal Hill, Olneyville), I have fielded a lot of questions from friends, family and neighbors. One that keeps popping up, along with "are you nuts?" and "what do state reps even do?" is the one about my age: "aren't you too young for that?"
Anyone who has worked with me knows I love a good spreadsheet. So I put one together on this question. I'm likely missing several examples of people under 35 elected to the RI General Assembly, but the list was more inclusive than I expected, and is certainly enough to prove a point – Rhode Island likes them young.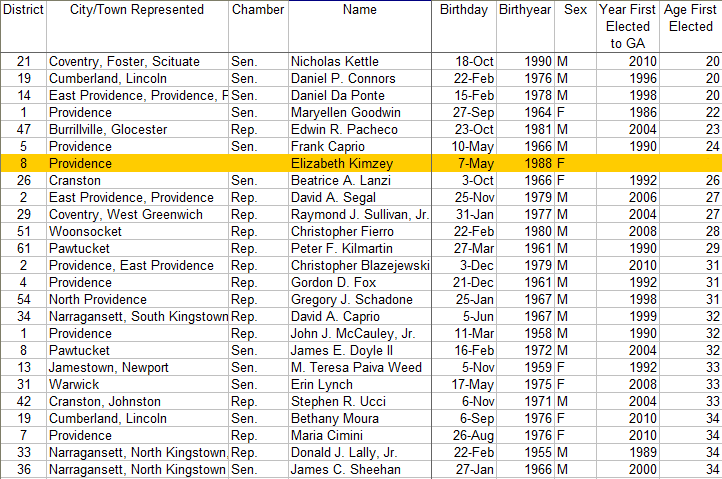 And at a glance, it even seems fairly representative of the larger General Assembly in terms of male/female and Providence/Northern RI/West Bay/East Bay.
I'd be interested to see someone else continue asking questions: are young people elected more or less often than their older peers? Who is the youngest person to successfully challenge an RI incumbent legislator? And of course, there's all the data on the other end of the spectrum. In 2009 when I was around the State House a lot as a volunteer lobbyist for Fair Elections, Representative Peter Martin would joke with me that he was the oldest freshman that year, at 67 years old. What does the historical competition for that honor look like?
Is Rhode Island Afraid of Young People?

,