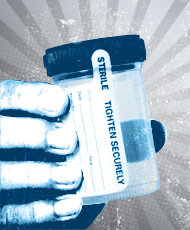 The General Assembly is giving serious consideration to passage of legislation (S-843/H-5696) that would mark a major step backwards in Rhode Island's longtime efforts to protect privacy rights in the workplace. The bill would subject undefined "highway industry" employees to random and standardless drug testing procedures.
For almost 30 years, Rhode Island law has greatly restricted the use of this degrading and intrusive practice. The state has recognized that random drug testing in employment is unreliable, ineffective, a significant invasion of privacy, and an extremely poor way to treat employees or determine their job performance.
In creating an exemption from the law's current ban on random drug testing, the bill would allow any employer "in the highway maintenance industry" to engage in suspicionless drug testing of any and every employee – the secretary, the building janitor, and the IT staff.
Just as disturbing, the bill exempts these employers from complying with any provision of the drug testing law, including such important procedures as requiring confirmation of results by scientifically accurate means and retesting of positive results in order to reduce errors; requiring referral to substance abuse counseling for first violators; and keeping test results confidential.
It's worth emphasizing that the law has always allowed employers to drug test an employee when there are reasonable grounds to believe that the employee's use of controlled substances is impairing his or her ability on the job. That is how it should be. The law has also allowed random drug testing of employees, like those with commercial driver's licenses, who are subject to such testing under federal law.
The timing of the bill's consideration is ironic. Unlike many other drugs, the metabolites from marijuana can stay in one's system for weeks after it has been ingested. Harder drugs, like cocaine, on the other hand, generally are flushed out of one's system within 48 hours and are less likely to be caught by a drug test. Just last month, Rhode Island decriminalized the possession of small amounts of marijuana. Implementation of this bill, then, is most likely to target and ferret out individuals who are using a decriminalized drug that is less harmful than many prescription drugs, and who are using it off-duty when it would not in any way interfere with their job responsibilities.
No less than the police officers, firefighters, teachers and other public servants protected by the current law, these employees deserve a right to be free from the intrusion of random drug testing. It would be unfortunate if the legislature instead decided they should be forced to pull down their pants and pee on command as a condition of keeping their job.