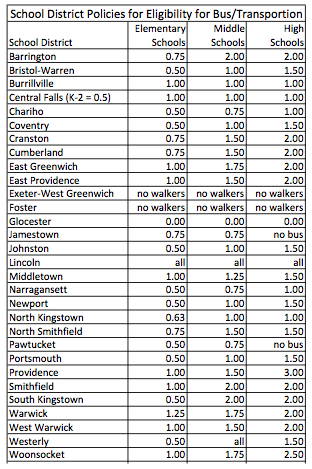 The Providence Student Union made national news when they invited adults to take a test. Now they are asking adults to try their morning commute to school.
In an effort to call attention to the link between chronic absenteeism in Providence public schools and the abnormally far distances some students have to walk to school, PSU members are asking Rhode Islanders to experience first hand what it can be like to walk to school in Providence. (Check out the Facebook event here)
Providence makes its high school students to find their own way to school if they live closer than three miles to their school. Most other Rhode Island school districts – and other urban areas in the region such as Boston, Fall River, Springfield and Hartford – provide for transportation after 2 miles, and some at 1.5 miles, according to a new report from Serve Rhode Island.
"The attendance/absenteeism data strongly indicate that transportation barriers are a key cause for absenteeism for PPSD high students, especially in winter months," concludes the report.
A bipartisan bill – sponsored by Reps Paddy O'Neill and Doreen Costa (among other members of both parties) – would require all school districts in Rhode Island to provide transportation for students who live more than 2 miles from school.
The Serve Rhode Island Report says the switch would cost Providence $1.4 million and "could reduce the daily absenteeism rate during the winter months by 10 to 15 percent."
Is three miles too far to walk to school in Providence?

,