Elections didn't used to be this way in Rhode Island. If you ran for federal office and won, you were pretty much guaranteed an unassailable position from which to plot your next step in life; be that a higher federal office, a cabinet position, retirement, or death. In fact, for roughly three out of four of our federal officers, that's still pretty much the case. But our newest addition to our federal delegation isn't finding it so easy.
Yes, the latest news out of WPRI's pollster Fleming & Associates is that incumbent U.S. Representative David Cicilline has a 4.3% lead among likely primary voters over challenger Anthony Gemma, with 19.9% of voters undecided. Rep. Cicilline triumphed with a 14.1% lead over Mr. Gemma and slightly larger leads over David Segal and Bill Lynch in 2010; a year that had older voters motivated in a right-wing backlash against Barack Obama and the Democratic Party.
The poll ultimately shows that Rep. Cicilline draws strong support from 18-39 year-olds, and has an advantage among female voters. It also shows that according to voters, his apology hasn't had much impact or made them less likely to vote for him. However, the key issue that 45.7% of voters cared about was "Economy/Jobs". "Providence Finances" came in fifth at 7.3%, behind "Best Chance to Win in November" (7.9%), "Experience" (11.3%) and "Character" (23.8%).
The good news for Rep. Cicilline is that his job approval ratings are higher among primary voters than the general electorate; in February, just 19.6% of registered voters said that Rep. Cicilline's job performance was "Excellent" or "Good". Among likely primary voters, that number is 32.1%. Not stunning, but not terrible either. And since 33.8% of voters rank his performance as "Fair" (whatever that means), there's a cushion there.
The other good news, one that cuts both ways, is that Anthony Gemma remains an unknown quantity to most primary voters, 45.4% said they didn't know enough to give him a favorability rating. Among those who did, 37.7% ranked him as "Very" or "Somewhat Favorable". WPRI's Joe Fleming points out that this allows Mr. Gemma to build himself up, or alternatively, allows Rep. Cicilline to tear him down.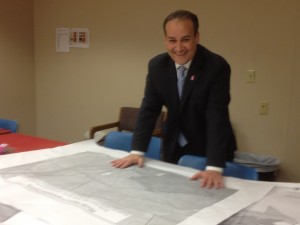 Mr. Gemma Trying To Ride Two Horses At Once
Mr. Gemma has had some serious issues already. Beyond the initial SNAFU when his announcement devolved into him abandoning it in an attempt to avoid the press, Mr. Gemma has been embroiled in trouble over whether he'd be a sore loser if he fails to triumph in the primary in September; and lingering questions of just how committed he is to the Democratic Party. After a meeting with the Democratic City and Town Committee Chairs Association, Mr. Gemma was blasted by Tiverton Democratic Town Committee chair Mike Burk, who claimed that Mr. Gemma would mount an independent campaign if he lost. Portsmouth Democratic Town Committee chair says that Mr. Gemma said he'd merely write his own name in.
But beyond the he-said, he-said of that particular exchange, Mr. Burk also claimed that Mr. Gemma's 2012 campaign was reminiscent of his 2010 campaign, which sounded more like he was running for governor than for U.S. representative. Indeed, he's promised 10,000 jobs to Rhode Island, a claim which sounds far-fetched even if he was running for governor, much less a junior representative in a party likely to be in the minority in the 113th Congress.
Also undercutting him is a problem of insincerity. Having claimed to be the progressive in the race, Mr. Gemma comes from a strong business background, one that was cited for 32 labor violations. He did not vote in the 2008 Democratic presidential primary (one of the closest presidential primary races in recent history), and only affiliated as a Democrat prior to his first run in 2010. He also has said that he is anti-abortion, but would not vote against a woman's right to choose. Which doesn't signal strong convictions more than it signals a willingness to do what's necessary to get elected; a criticism Mr. Gemma has lobbed against Rep. Cicilline on more than one occasion.
Brendan Doherty Lies Waiting in the General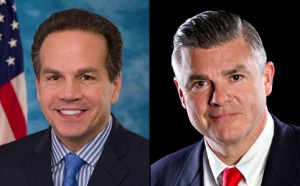 Regardless of which Democrat wins, they'll run up against Republican Brendan Doherty. Between a WPRI Newsmakers interview where he came out in favor of letting all of the Bush tax cuts expire and a recent statement that he favored the reinstatement of Glass-Steagall to separate commercial and investment banks, Mr. Doherty now has an economic policy far to the left of many Democrats in the U.S. House of Representatives. It should be noted he also has said he favors "right to work" legislation and that Rep. Cicilline has signed onto a bill to reinstate Glass-Steagall and supports ending the Bush tax cuts for those earning more thant $250,000 a year.
But Mr. Doherty's statement on Glass-Steagall (repealed in the early 1990s under the neoliberal bonanza of the Clinton presidency) raises the specter of accusations during his primary campaign that he was merely a Republican-in-name-only, something which is not helped by Mr. Doherty also having a lead among unionized workers versus Rep. Cicilline in the last poll in which they were matched.
If the economy remains the number one issue for voters, Rhode Island's Congressional District 1 may have a thunderous battle over economic policies that tilt towards the left if Mr. Cicilline makes it through. On the other hand, Democratic primary voters may face a more traditional interventionist vs. laissez-faire economic debate.
It used to be that federal office in Rhode Island was a secure perch. But even if Mr. Cicilline fails to survive this, his successor, imperfect as the leading two candidates for it are, may face a similar struggle in 2014.