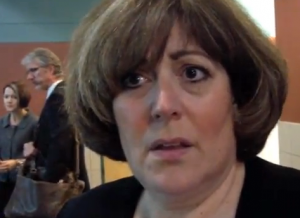 Board of Education Chairwoman Eva Mancuso held a press conference to respond to criticism that the Board of Education did not adequately respond to criticism about the NECAP test. Her message: she would not be responding to criticism.
"I'm not going to get involved with sideshows with 16-year-olds," she said according to the Providence Journal. "I'm starting to see Steve Brown the same way — as a sideshow."
Steve Brown, in case you didn't know, is the executive director of the RI ACLU. He says using the NECAP test as a graduation requirement will violate the rights of disabled, minority and poor students while increasing the achievement gap – issues that are being raised with regards to high stakes tests all over the country. That's no sideshow. The ACLU is helping Tina Egan, whose daughter has Down syndrome and might not graduate high school because of the new NECAP requirement, bring legal action against Mancuso and the Board. That's not a sideshow either.
Most recently, the ACLU has forced the Board and Mancuso, through a court order, to deliberate about a request that the Board discuss the new policy in public. Not even the policy itself, mind you, just whether or not to discuss the policy. That's a sideshow completely of Mancuso and the Board's own making.
Proponents of the NECAP requirement have worked hard to keep this debate as muffled as possible and now it seems Mancuso and the Board of Education want to paint any and all opposition as being born out of the Providence Student Union, which has brilliantly used theatrical political action to raise the profile of this issue. (On its agenda, the Board even says it is being sued by the PSU when it is being sued by Tina Egan.) But that doesn't mean all the opposition is theatrical. Much of it is not.

It's actually Eva Mancuso's sideshow

,