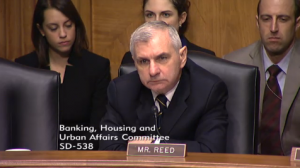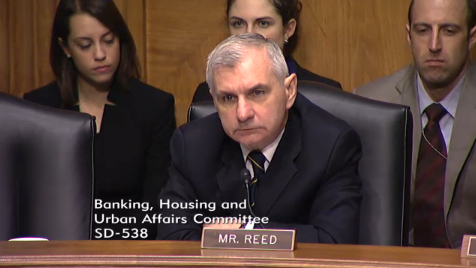 There's been a surprising dearth of coverage in the local press of Jack Reed's exemplary work last week, as he stuck it to the Office of the Comptroller of the Currency (OCC) alongside Sherrod Brown and Elizabeth Warren.  Here's a full transcript.
Here's the rub, from Dave Dayen at Salon:
The vast majority of borrowers – 3.4 million – will receive $1,000 or less. To pick a category at random, 234,000 borrowers had a loan modification approved, were kicked out of their homes anyway, and will receive for their trouble – for having their home effectively stolen – a whopping $300 (for comparison's sake, the third-party consultants got $10,000 per review).
HuffPo notes Reed's role here:
Under questioning from Sen. Jack Reed, a Rhode Island Democrat, regulators came the closest to acknowledging that the reviews, which resulted more than $2 billion in payments by the banks to consultants, were poorly conceived and supervised.

exity of the task," said Daniel Stipano, a top lawyer at the OCC. He cited the number of financial institutions, consultants and homeowners involved and the difficulty in negotiating state law as among the challenges that reviewers and regulators had to negotiate.
Dave explains how this hearing and the OCC mortgage fraud settlement relate to the broader housing collapse.  Dave's thrilled to see that the foreclosure fraud issue is FINALLY getting some play with the national press — with the tag-team effort by Reed, Warren, and Brown appearing — and even leading — on many national network news casts this week.
I have spent the better part of four years trying, with little success, to raise awareness aboutforeclosure fraud, the largest consumer fraud in the history of the United States.  In fact, there's a whole little band of us writers and activists and foreclosure fighters. We have provided multitudes of evidence about fake documents, forged documents, illegal foreclosures, foreclosures on military members while they served overseas, foreclosures on homes with no mortgages, breaking and entering into the wrong homes, suicides by foreclosure victims, and above all the complete lack of accountability for these crimes and abuses.

But instead of giving voice to thousands upon thousands of victims of illegal foreclosures, instead of documenting the banks' criminal practices, maybe what we all should have done is simply let the Office of Comptroller of the Currency – part of the Treasury Department — and the Federal Reserve construct their own settlement with the banks. Then, when it utterly unraveled — as it has over the past couple of months — the unimaginable fraud heaped upon homeowners would get more attention than ever before, particularly from a frustrated and angry Congress led by Sen. Elizabeth Warren.
The OCC's pathetic response to the housing crisis, its attempt to cover up its own corruption/ineptitude, and Warren's star power make this the perfect moment to bear down on these issues.  Reed deserves praise for helping to lead the charge — let's hope he keeps plowing forward.