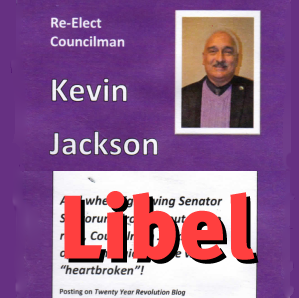 Providence Ward 3 City Councilor Kevin Jackson distributed flyers under his own name, repeating the false claim originally voiced by the Providence Apartment Association on his behalf, namely that his write-in challenger Marcus Mitchell lamented Rick Santorum's withdrawal from the 2012 presidential race.
Meanwhile, the Mitchell campaign has sent Jackson a letter that provides clear, compelling exculpatory evidence and demands an immediate retraction. If Jackson and his campaign continue to distribute this flyer now knowing for certain that their claim is false, it becomes bona fide libel.
According to information from the Mitchell campaign, Jennifer Seitz, who teaches political science at Georgia Perimeter College created and managed the blog Twenty Year Revolution from which the quote was taken. This fits with similar results from my own searching for "jenecseitz," the WordPress user that authored all the post on the blog. The Mitchell campaign has also located a person named Marcus Mitchell who attended Georgia Perimeter College.
Any slightly savvy Internet user would look at Twenty Year Revolution and realize that this was a teaching tool created specifically to engage students in using social media in a political context. If you scan a number of posts, you'll see many of the same names over and over again. Also, 100% of the comments use the same format of posting a single link as an addendum.
Your Frymaster has reached out to Ms. Seitz about this situation and will update this post with any new information.
UPDATE: 11/3, 8:30 AM—Jennifer Seitz replied with the following:
[Twenty Year Revolution] was a teaching tool used in my American Government course at Georgia Perimeter College.  Marcus was a student of mine, I do remember him, and I can assure you he is not running for office in Providence.
More on Marcus Mitchell: