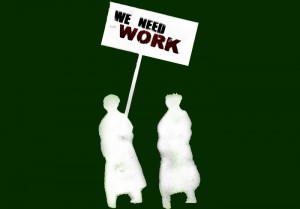 Calling all un- and underemployed!
Tired of pounding the pavement and dredging craigslist to find a job? Sick of sending out resumes only to get no response, or a "Thanks, but no thanks?" Unemployment benefits running out, forcing you closer to the brink of financial collapse?
Make your voice heard today!
Today, at 3 p.m. at the State House, Where's the Work, Rhode Island?  will be holding a Job Fair…. wait, scratch that, a Jobless Fair.
This is an opportunity for the 53,000 unemployed — and thousands more underemployed — Rhode Islanders to demand real action by the General Assembly to lower the unemployment rate in the Biggest Little.
Rhode Island's unemployment rate remains stubbornly high, and state tax breaks like the Jobs Development Act have failed to generate enough jobs to significantly impact the unemployment rate.
Where's the Work? is an initiative of Ocean State Action designed to increase public awareness and understanding of the unemployment crisis in Rhode Island. Politicians can throw around numbers and statistics regarding unemployment, but there is one very important thing that gets lost in the mix – the people and their real experiences as they try to weather the financial crisis.
"A lot can and needs to be done at the state level to address the unemployment problem," says Mark Gray, Ocean state Actions Where's the Work campaign organizer," for instance, Connecticut has created a subsidized job training and employment program that has employed about 1,300 people in over 400 small businesses in the last year."
Gray says that while Rhode Island's total unemployment rate has fallen slightly, the long-term unemployment rate — those that have been out of work for longer than six months — hasn't budged.
"We need a new approach. Clearly the state's past efforts are not working, and this economy is not working for a significant segment of the population."
Today's rally is a chance to put the stories of unemployed Rhode Islanders front and center to reshape the public dialogue about our economy and make sure that our elected leaders better understand the urgent action that their constituents need.
Attendees to today's rally are asked to dress as if attending a job interview and bring their resumes.
Even if you are currently employed, please consider attending this important event. After all, there's no guarantee that you'll have a job tomorrow.