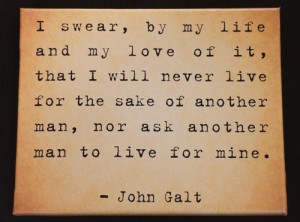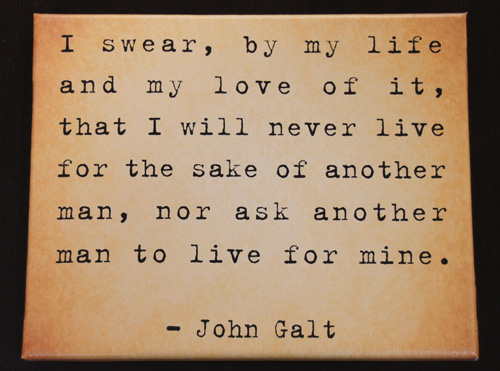 There's an ideological battle going on in the Ocean State concerning the new toll bridge connecting Tiverton to Aquidneck Island. But it isn't between the left and the right. It's between the right and itself.
The rest of Rhode Island has moved on; the state said it won't even collect the toll. But the same folks who once protested the user fee on the basis of it being an economic hardship for the minions of struggling Tiverton and Little Compton residents who need to go to Portsmouth are now protesting it on principle.
Even John Galt himself, the fantasy hero of Ayn Rand's science fiction novel/small government manifesto, has joined the fray, calling in to one of the local talk radio shows, reports the Providence Journal.
Yes, paper of record in Rhode Island reports on fictional philosophers calling into talk radio shows. I somehow doubt the ProJo would report it if Tom Joad started commenting on RI Future. Nor is it necessarily news if a fake person calls into talk radio. Indeed that may be the only kind of person who has called into talk radio in recent years!
It's also noteworthy because while the East Bay Galtstapo may hate the idea of toll roads, their ideological kinfolk at ALEC loves them. Here's the preamble from ALEC's 2009 Statement of Principles on Toll Roads:
The Department of Transportation projects traffic congestion is costing the U.S. economy as much as $200 billion a year. Because of future deficits in the Federal Transportation Trust Fund, the federal government will be unable to adequately fund needed improvements for our roads. In fact, beginning in 2009 the Transportation Trust Fund is facing a $4-5 billion deficit. Hence, innovative financing methods, such as public-private partnerships, have a vital role to play in solving our current transportation problems. Government policy should encourage a market-driven highway system, one that responds to the needs of users, on a user-pays basis. Private investment in highway projects generates new sources of money, ideas, and efficiency.
And PR Watch reports ALEC this summer is looking at "privatization and outsourcing of toll roads."
It seems to me that the real John Galt would prefer this solution to sharing the cost of maintenance with his neighbors who don't use the bridge. But I guess that ignores what objectivism is really all about: doing whatever is in one's own selfish interest.