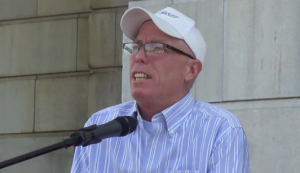 Today is John Joyce's memorial service. He died way too young at age 50 and was a bona fide friend and hero to the people on the streets.
His job, his mission in life, was to connect with the homeless people of Providence. Just to connect with them. After food, water and warmth connection is the most important human need and John Joyce figured if we couldn't provide the first three he would provide the fourth.
Also today, I saw this short article in the New York Times. It's about Providence resident and art curator Cade Tomkins. Like Joyce, Tompkins also caters to a specific demographic in Providence. But it isn't the homeless…
Ms. Tompkins has upholstered a chaise longue with fabric by Serena Perrone, who makes silk-screened photolithographs that meld images recalling Japanese Edo woodcuts with domestic Western objects and architecture. The fabric is called Biwa, after a lake in Japan, and it is hand-printed to order by Ryan Parker and Shelby Donnelly, technicians for the artists, for $495 a yard with a 12-yard minimum.
That's almost $6,000 for the material alone for a chair that will probably not be sat in all that much. Such a sum could easily provide food, water and warmth for many of Joyce's constituents.
I don't know Cade Tomkins, and I definitely do not mean to imply she is doing anything wrong by making an expensive chair. My honest guess is that she is a wonderful person and it surely a beautiful chair.
Whether you want to sit in it or not, that super expensive chair is a really important component of Rhode Island's economy. So are the homeless, like them or not.
If you can afford to buy this chair, please support a modest income tax increase so Rhode Island can keep John Joyce's work alive now that he isn't. What good is it anyways to look at a super beautiful chair at home if you have to see people freezing to death on the way to the Capital Grille?
John Joyce and Cade Tompkins' Chair

,