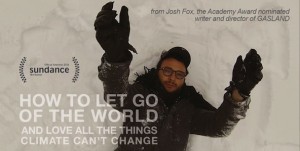 Midway through Gasland director Josh Fox's new film How To Let Go Of The World (And Love All The Things Climate Can't Change), the filmmaker comes to the stark conclusion that most people in the mainstream press are not saying out loud: climate change is here, it is already impacting our world, and we are well past the time when mythical natural gas "bridge fuels," like those proposed for use in Burrillville would have been of any use to our civilization.
CLICK HERE TO GET TICKETS TO THIS FILM, OPENING AT THE CABLE CAR!
Picking up where his previous documentary about opposition to fracking left off, he goes on a globe-trotting journey to the Amazon rain forest, the Pacific islands, China, and everywhere in between to visit communities that are opposing fossil fuel infrastructure expansion while confronting the onset of the crisis. Yet unless one thinks this is all doom and gloom, think again, it is in reality a celebration of solidarity and includes within its coordinates the potential salvation of our civilization.
We witness the beauty of South American indigenous people rowing miles into the jungle to clean up oil spilled by reckless fossil fuel companies and the courage of Pacific islanders who form a blockade out of canoes trying to hinder the passage of an Australian tanker. There's the majesty of the Chinese solar panel entrepreneur whose industrial-level output of renewable energy implements would put cranes in the air across the Ocean State. And here in America we see the aftermath of super storm Sandy as a preview of what is in store for all the coastal cities in America, including Providence, with 384 miles of coastline in the Ocean State that are in dire need of renovations and reinforcement to accommodate rising sea levels.
Fox's operational budget and cinematography are notably hands-on, DIY. He has amazing panoramic views of the landscape because of a trusty self-flown drone he pilots with relative ease around the sky looking down on the decimation of climate change. One needs only recall the majesty of works by Dziga Vertov to see his film occupying a continuity that will rank it alongside other great works of documentary.
It is intended as a call to action. I hope that Sen. Whitehouse and George Nee will see this film and consider its points carefully. The climate crisis provides us with great opportunities but they begin with understanding that the Democratic Party is not going to be a force for change in the face of this emergency and that instead it is going to come from the masses of people who band together in the face of calamity.
See this movie.