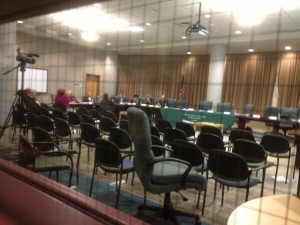 With high school graduation imminently approaching, legislators, mayoral candidates, students, teachers, parents and community organizations have been discussing with frequency the Board of Education's high stakes testing requirement for seniors. Remarkably, about the only entity that hasn't publicly discussed the merits of the requirement is the Board itself.
Thanks to a court decision on Friday, that will soon change. But the Board's refusal for so long to publicly defend their controversial policy – one that has the futures of literally hundreds of students hanging in the balance – demonstrates why it is critical for the General Assembly to step in and halt the NECAP testing requirement.
On three separate occasions in the past nine months, courts have found that the Board violated open government laws in avoiding publicly discussing the NECAP issue. In this most recent ruling, Superior Court Judge Luis Matos ordered the Board to finally come out of hiding.
Specifically, in response to a lawsuit we filed some months ago, the judge has required the Board to publicly discuss and vote on a petition submitted last June that asks the Board to hold a hearing on eliminating high stakes testing.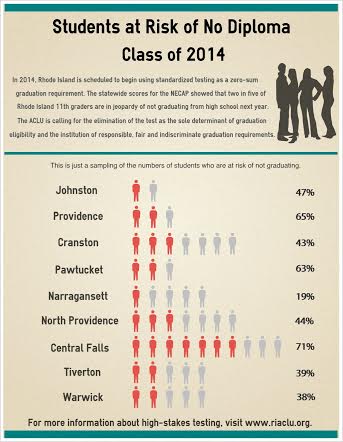 Last September, in a private meeting – that the judge held was a clear violation of the open meetings law – the Board rejected the petition by a 6-5 vote. Minutes of the secret meeting show that those who voted it down objected to reconsidering the mandate without having fall's NECAP test results. Well, that excuse no longer exists. We know the results, and we know the harm that the NECAP requirement is wreaking on too many Rhode Island's seniors, especially students with disabilities, English Language Learners, and those in the inner cities.
The court's ruling is important for accountability: it is long past due for the Board to have a full and fair airing – in public – about why they think students' futures should be ruined on the basis of an arbitrary standardized test. But the Board has dawdled long enough. It is difficult to put much faith in an agency that has violated the law three times to avoid the issue.
Whatever the Board ends up doing, let's hope that legislators will take Friday's ruling to heart, say "enough is enough," and pass a bill that, at a minimum, puts a moratorium on high stakes testing. The stakes for hundreds of seniors are too high to wait any longer.