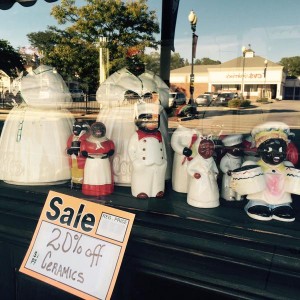 It's been a year of enlightenment for some of us white people, thanks to the horribly illuminating videos of unarmed black people killed by police – nothing new for the African American community, but no longer something the rest of us could ignore.
Black Lives Matter made sure we didn't miss this moment – reminding us that we as a country have acted as if black lives don't matter quite as much as white lives and that we have failed to come to terms with the terrible racial injustices upon which we have built our nation.
It's against that backdrop that I noticed some ceramic "mammys" and "sambos" in the window of a consignment shop the other day in my town of East Greenwich. I was startled. Can these caricatures of happy slaves actually be for sale – at 20 percent off no less – right there on Main Street?
"You treat them as a precious thing. It's a part of history, a part of American history," said  Lynda Peters, owner of Consignors, the shop on Main Street. Peters said about half of the people who buy black memorabilia from her are African American.
"What are we supposed to do with it – throw it all away?" she said. "Then it's lost forever."
Her store is hardly an outlier. This kind of mass-produced racist kitsch can be found everywhere it turns out.
"It's a huge market," said Nanci Thompson, owner of Briarbrook Antiques, an auction company in East Greenwich. "Just check eBay."
Indeed, a search on eBay for "Black Americana" turned up 15,853 items.
Thompson likened the mammy ceramics to Nazi memorabilia – shocking but a reminder of where we've been.
"We should not forget that this happened," she said. She said she has sold lots of African American memorabilia over the years, but said she draws the line at Ku Klux Klan items, which she referred to as "nasty."
There are those who think all such items are nasty. In her book from 1994, "Ceramic Uncles & Celluloid Mammies: Black Images and Their Influence on Culture" (Anchor), Patricia A. Turner refered to such items as "contemptible collectibles."
Turner is black; Thompson and Peters are white. 
Jim Vincent, head of the Providence branch of the NAACP, is black. For him, it's the context that counts.
"If the person is trying to sell this artifact because of its historical nature … I see no problem with that. If someone is trying to ridicule a whole group of people, I do have a problem with that."
Vincent does not own any of these mass-produced items but he acknowledges that "people might want to purchase it as a part of history, as negative a history as it may be."
He added, "There are numbers of collectors, black and white. I don't know white collectors but I do know black collectors. They're trying to educate the public to our sordid past."
James Alexander of West Warwick isn't having it.
"To me it's inexcusable for this type of, ah, 'memorabilia' to be displayed and or sold in this day and age. There's no excuse for people to still cling to that as a memory," said Alexander, who is black and has worked in community development for 50 years. "From my background, having grown up in the segregated South, that's not how I would react to something like that."
It's more about what's not been saved or memorialized that troubles Providence writer and producer Reza Clifton, who is black.
"One example I can think of, with roots in Rhode Island, is Sissieretta Jones, a famous opera singer who traveled the country and world, but for whom there is no archived recording, and who died 'penniless.' She was certainly alive at a time when talented white singers were being recorded and archived, so why not Jones? Why is it that 'Black Americana' art, with its racist intents and depictions, could be archived, restored, and passed around even today, while a talented singer – who represents something we can be proud of – was either denied access or deemed unworthy of salvage?"
Clifton said she thought black people might collect Black Americana because there is nothing else to collect (i.e. the nonexistent recordings of Sissieretta Jones). "What else are we to collect if we want to memorialize ourselves, our families, and our history?" she said.
And she equated the collection of mammys and sambos by some black people to the use of the n-word and bitch by others.
"There are many people who feel like, in using these words, they've reclaimed what have historically been negative terms. At the same time, there are some people who still feel like the words have strong, derogatory meanings because of their original uses and users," she said. "I feel it's important to leave room for both philosophies – especially when the work has been done to understand their origins."
Phillip J. Merrill, who is black, is a historian, writer, appraiser and collector from Baltimore. He has made it his life's work to use historical objects to teach Americans about our slaveholding and racist past. Merrill laughed when I explained my discomfort upon seeing the black ceramics.
"All of this material reaches the audience in different ways," he said. "It's shocking when you see it in a shop window, but this is an old conversation. It's an old conversation with new meaning, because of the Black Lives Matter movement and because we have a black president and a black first lady."
And Merrill thinks that's a good thing even if it makes some people uncomfortable.
"I meet people who are furious – 'How dare you want to show and talk about stereotypical artifacts from the past!' In order to understand how we got here, we've got to go back and look at the past. So many of us don't want to tell it like it is," he said. "All of these artifacts play a tremendous role in helping us deal with the past."
As for me and my own personal awaking, Merrill had this to say: "You were sleeping like Rip Van Winkle and now you are awake. You should have been awake a long time ago. You were intimately involved with this."
Just how racist are ceramic mammys and sambos?

,