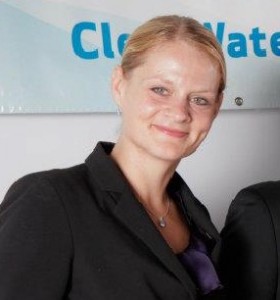 The local progressive movement isn't losing an activist, we are gaining a voice inside of government. Kate Brock is leaving her job as the executive director of Ocean State Action to take a policy position in Governor Chafee's administration.
In an email to OSA supporters this morning, she writes:
It is with both heaviness in my heart and excitement for the future that I am writing to bid you all a fond farewell.

The past three years have been an amazing journey for me, and for Ocean State Action. We have made important changes in Rhode Island – both in the laws, and in the hearts and minds of Rhode Islanders.  And we did it by walking on picket lines, rallying, collecting postcards, canvassing businesses, training new activists to be campaign managers and data geeks, educating voters on issues from voting rights to tax equity, making phone calls, and knocking doors, and we did it all together.

But now it is time for a new page in my life, and I am both honored and humbled to be joining the Governor's policy team up at the State House. I am greatly looking forward to getting back to my roots, not the grassroots ones, but my roots in the environmental community.

It has been a privilege to work alongside each and every one of you both in the trenches of Get Out the Vote and through long, long nights at the Statehouse. We've done a lot together, and there is a lot to still be done.

I am proud to leave Ocean State Action in the capable hands of Kristina Fox and Mark Gray who will keep fighting the good fight. If you haven't met them yet, send them an email or give them a call and get more involved with Ocean State Action.

And never forget the immortal words of Dr. King – "Change does not roll in on the wheels of inevitability, but comes through continuous struggle. And so we must straighten our backs and work for our freedom. A man can't ride you unless your back is bent." Stand tall, agitate, organize, and demand progress!
Kate Brock: Goodbye OSA, Hello Governor's Office

,