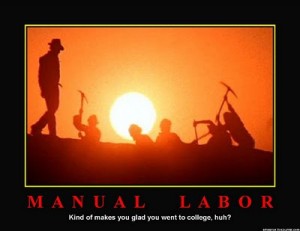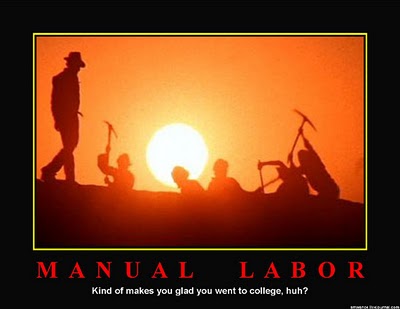 When the House Committee on Small Business takes up today it will hear from gubernatorial candidate-turned-foodstamp-fraud investigator Ken Block who will likely say something like, "Ultimately, our TDI program should resemble most other state's plans in terms of cost and utilization." as he tweeted last night.
But a must-listen "This American Life" episode this weekend makes a case for why Rhode Island's disability insurance program should be unique. (Ed. note: this is the kind of journalism RI Future would like to do when we have more resources to play with!)
"It's confusing, I have back pain," says Planet Money reporter, Chana Joffe-Walt. "My editor has a herniated disk and works harder than anyone I know."
Her piece is a very revealing look at how those who use their brains to earn a living cannot conceive of the difficulties of relying on your brawn to stay employed long term. I know this well. I worked as a farm hand in my 20's and am tremendously grateful that my East Greenwich education allowed me to transition into the white collar economy.
But her story also says that disability is being used as a "quiet de facto welfare program." (Something tells me Doreen Costa and Fox "News" are outraged!)
But economic realities and right wing outrage porn are so often mutually exclusive of one another.
"…if your alternative is a minimum wage job that will pay you $16,000 a year … that probably won't be full time and very likely won't include health insurance, disability may be a better option," says Joffe-Walt.
Like the rural areas of the South she reports on, many formerly middle class Rhode Islanders are on disability because a life of manual labor has left their bodies battered, and a globalized economy has taken away their job security.
Just like with Block's efforts to root out food stamp fraud, his effort to reform disability might be well-intentioned. But well-intentioned isn't the same as economically prudent. If it was government would be easy!
Before we make our TDI program look like other states, as Block suggests, we should investigate whether are situation is unique. After all, our economy is unique to other places so adopting ideas simply because other states are doing it will likely be a bad idea for our real-life economy AND the made-up CNBC rankings.
Editor's note: It should have been made clearer that Block is testifying about temporary disability insurance and the This American Life story is about long term disability. The headline has been corrected.