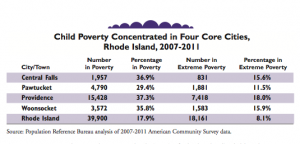 There are two economies in Rhode Island. And they are very different from each other.
There's the one found in East Greenwich, where everyone has pretty good and probably high-paying jobs and our public schools perform well and prepare our children for college and beyond. Our real estate might be worth a little bit less, but our retirement funds have largely rebounded. The state of the suburbs in Rhode Island is good.
Then there's the one in Woonsocket. Unemployment is high, and average income is low. The schools are failing financially and academically. Most residents don't own, they rent and many need assistance just to make ends meet; saving for retirement is an unaffordable luxury. The state of the cities in Rhode Island is abysmal.
You've read this theme often on this blog. But this year's Kids Count Factbook reinforces the point.
Children most at risk of not achieving their full potential are children in poverty. Nearly two-thirds (65%) of Rhode Island's poor children live in just four cities. These communities (Central Falls, Pawtucket, Providence, and Woonsocket) are the four core cities highlighted throughout this Factbook. Children in poverty live in every community in Rhode Island, but these four communities deserve special attention because they are where child poverty is most concentrated.
More than one of every three children from the four core cities – 35.3 percent – live below the federal poverty level. Across the entire state there are 17.9 percent of children live in poverty but only 9.4 percent outside of the four core cities.
More children from the four core cities receive SNAP food assistance – 39,292 – than the entire rest of the state – 23,934. And there are more homeless children and those living in shelters from the four core cities – 1,042 – than the rest of the state, too: 950.
There are some 65,000 students from low income families in Rhode Island and more than half come from only four of the state's 39 cities and towns.
Income inequality was also flagged as a growing issue in Rhode Island.
The income gap between Rhode Island's richest and poorest families is growing, and Rhode Island is among the top ten states with the fastest growing income inequality. The wealthiest 20% of families in Rhode Island have average incomes that are 7.5 times larger than the average incomes of the poorest 20% of families.
While the average income in Rhode Island for families with children is $68,507. In the four core cities it is  $35,946. Conversely, it's $128,888 in the four most affluent suburbs – East Greenwich, Barrington, Little Compton and Portsmouth. That means three people earning the median income for a family with kids in the four core cities wouldn't earn what one person earning the median income in the most affluent suburbs earns.