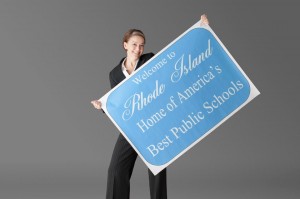 There's so much to blog about in this WPRO story about how a Warwick high school suspended a couple kids for sending rude and profane tweets to Education Comissioner Deborah Gist about high stakes tests as a requirement of graduation.
In no particular order:
Say what you will about Gist's education policies, she should be commended for engaging with the people – and especially her critics – through social media. I think it's her best attribute as a public official and she deserves tons of credit for it.
But we don't need all adults to agree with Gist's ideas, as she suggested in the ProJo this morning. In fact, we need a debate about this and the Providence Student Union found a way to engage in it.
Say what you will about the tweeting students' thoughts on high stakes testing, or their effectiveness in communicating them, they should be commended for being politically active and engaged.
Rhode Island is seeing a trend of local high school students organizing and speaking out against high stakes testing as a graduation requirement. I wonder if the offending tweeters were familiar with the Providence Student Union's Take the Test event this weekend? There's also this story from GoLocal about honor roll students in Coventry who are opposed to the high stakes test.
I'm not certain that students have a free speech right to swear at education officials, either on school time or off. But here's what the ACLU of RI said about it in a statement released yesterday:
"…the school superintendent's involvement with the families of students who tweeted off school property and during non-school hours is a different matter. It is simply not the school's business what students tweet on their own time where the messages had nothing to do with the Warwick schools, or with students or adults at those schools. Local school officials are not 24 hour a day nannies or Twitter etiquette enforcers."
Pot calling the kettle black: Who better than John DePetro to break a story about ridiculous and legally-questionable speech about education professionals.
Prediction for today: DePetro will blame the student's actions on the ACLU and the teachers' union, and will be equally as foolish as the teenagers he is chiding!