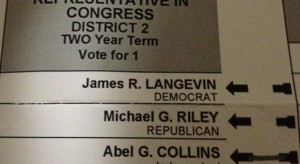 In contrast to WPRI, Congressman Jim Langevin thinks his campaign competitor Abel Collins should be allowed to participate in the televised debates, he told me in an interview today.
"All three of us should be debating," Langevin said. "The voters on election day are going to be confronted with three options. If they aren't hearing from all three candidates in the debates, it deprives the voters."
Mike Riley declined to comment on the matter. A campaign staffer said to me, "We don't make statements to your blog."
WPRI will hold a televised debate on Tuesday night between Langevin, the incumbent, and Republican candidate Mike Riley, who is largely financing his own campaign. Collins was not invited to participate. WPRI General Manager Jay Howell declined to comment on why Collins wasn't invited.
Phillipe and Jorge reported last week that they believe WJAR may invite Collins after all. They wrote, "P&J have a feeling that situation may change.
Abel appeared on Channel 10's News Conference last Sunday by himself, with both Langevin and Riley apparently standing up host Jim Taricani. Reports from those close to the event said that Our Jimmy was less than amused (read: furious), so after Collins's solo performance, look for a quick JARhead 'sorry your invitation got lost in the mail' weaseling."
Collins has started a petition drive asking WPRI to  include him in the WPRI debate.
Langevin: Collins Should be Allowed in TV Debates

,