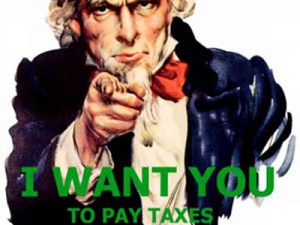 Instead of bemoaning Tax Day, we ought to celebrate it as a national holiday. It's the day we chip in to pay for the services we all rely on to live our lives.
After all, who among us doesn't benefit from taxes? Anyone who drives certainly does. Anyone who likes to spend a hot summer day at the beach does too. We've triumphed in wars due in no small part to outspending our enemies. And find me the person who thinks the United States would be better off if it didn't have public schools and I'll show you someone who doesn't understand how the world works.
Here in Rhode Island, we have a particular problem with seeing taxes as a good thing. Consider this: a bill that would inject $40 million into our public schools is known as the meals tax because it would add $2 to every $100 dinner at a restaurant or 40 cents to every $20 lunch or breakfast. Why doesn't the media call this the education investment bill? Similarly, a bill that infuse our health department with $45 million is called the soda tax because it would add a penny onto every ounce of sugary beverage.
Elizabeth Warren, Senate candidate in Massachusetts, once famously said of taxes: "You built a factory out there? Good for you. But I want to be clear: you moved your goods to market on the roads the rest of us paid for; you hired workers the rest of us paid to educate; you were safe in your factory because of police forces and fire forces that the rest of us paid for. You didn't have to worry that marauding bands would come and seize everything at your factory, and hire someone to protect against this, because of the work the rest of us did."
But despite the preponderance of evidence showing that taxes are, in fact, a good thing, Americans still love little more than to complain about their contribution.
Though I think this outlook is inherently bad for society, I can understand why people feel this way. For one, the United States was literally founded on the idea of paying lower taxes. Your high school history teacher may have told you it was all about freedom and democracy, but it was just as much about not ponying up to throne. Thus, it has become ingrained in our cultural understanding that taxes are bad, and if you don't begrudge them you must, therefore, be opposed to freedom.
But, in truth, and most rational people will agree, that taxes are good. Some, fiscal conservatives in particular, just think we pay too much of them. In other words, they want to pay taxes for the services they use, but not for the services they don't.
However, there is a fundamental flaw in this line of reasoning and it can be summed up as simply as the old saying, "a chain is only as strong as its weakest link."
We're actually seeing this play out live in Rhode Island right now. Our underfunded urban areas giving the entire state a bad name from coast to coast. In fact, just last week, Colin Kane, testifying before the Senate Finance Committee, said investors are afraid to invest in Rhode Island bonds because of the situation in Central Falls.
And just think how much better off our state would be if all school districts were as wealthy as East Greenwich and Barrington – this state would be cranking out job creators like nobody's business!
One of the most important takeaways from the Occupy movement is that when society becomes inequitable, as it has increasingly become, people will take to the streets. The more inequity there is, the more people will take to the streets. Trust me, the very last thing the affluent class wants is for the lower and middle class folks to be taking to the streets. Indeed, most social service programs were instituted to insulate the job creators rather than to coddle to the job seekers.
Hating taxes is a completely outdated notion that may have worked when our country was still growing and flush with natural resources. But now that neither of those things are necessarily true anymore, we need to start seeing taxes as the societal good that they are.
So the next time you safely drive to the beach while your kids are on summer recess, you can say to yourself: but for our collective contributions, I wouldn't have it nearly so good.