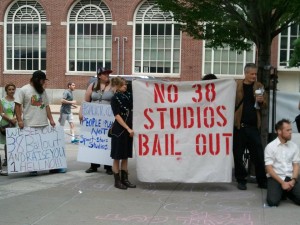 Perhaps the most telling tale of the 2013 budget process is not about what we do or don't invest in, but rather the uncommon affiliations one such spending decision has brought to light. Many on the left (progressives) and the right (Republicans) seem to disagree with the majority of moderate Democrats that Rhode Island should pay 38 Studios bondholders.
This was first illustrated by Randall Rose and Occupy Providence's great effort to put together a panel of diverse local experts, moderated by WJAR, to discuss the issue. Occupy Providence has long opposed paying on the bonds and it partnered with the Stephen Hopkins Center, a grassroots local libertarian group to call attention to the matter by having economists, college professors and bond buyers vet the pros and cons. Meanwhile, the legislature hosted a one-sided lecture on the merits of repayment.
House Republicans responded by vowing to vote against the budget bill today if the $2.5 million line item is included. Whether this is a principled stand against Wall Street-centric economic policy or simply political gamesmanship over the budget remains to be seen. Nobody, not even the ratings agencies, know which is the more fiscally-prudent path at this point and anyone claiming to support or oppose the $2.5 million line item based on such knowledge either doesn't get it, or is lying (what some politics).
But now Sam Bell and Gus Uht, two influential members of the Rhode Island Progressive Democrats, have called upon liberal lawmakers to reject the budget proposal as well. Read their pieces here and here. They both mention the 38 Studios bonds, but also cite several other issues progressives have with the budget bill, such as cuts to RIte Care, pension payments and municipal aid.
The progressive caucus in the House has at least twice the membership as does the Republican Party. So if both these caucuses come together to oppose the budget, leadership would all of a sudden have a legitimate math problem on its hands.  Which won't happen, of course, because the progressive caucus is more closely-aligned with moderate Democrats in politics if not in economic theory.
What's been really interesting to me is that pundits on both the left and right have used similar logic to call for default.
Here's what Uht wrote in a previous post:
"Moral Obligation" bonds are a fabrication of Wall Street, created to satisfy its greed. The Economic Development Corporation, not the state, issued such bonds for 38 Studios … 38 Studios was not described as a sound investment to either the prospective investors or the insurer, yet they signed on anyway. They gambled and lost. This is not Rhode Island's responsibility, but in the vague, smoky-back-room fashion of "moral obligation" bonds, it might hurt our reputation for being a good bond issuer if we don't obligingly, voluntarily make it our responsibility.
Andrew Morse takes the debate one step further writing that the electorate should not even vote for politicians who support the payment (according to the headline).
This idea of government will be imposed upon Rhode Islanders by their state officials and Wall Street working together, unless Rhode Islanders are willing to reject politicians who use their offices to enforce the finance industry's extra-legal understandings of how debt should work, and reward those who work to make sure that the finance industry lives under the same constitution and laws that everyone else does.
I agree with both Uht's and Morse's  sentiments, but don't think we should take such a severe stand for these values on either the budget bill or the next election. I do however think legislators have a moral obligation to oppose the budget bill based on the cuts to RIte Care, and if you read Tom Sgouros' post from yesterday you probably do too.
But with respect to the 38 Studios bond payment, Imost Rhode Islanders probably agree with what progressive Rep. Art Handy told ABC6's Mark Curtis:
I am of the opinion that we probably should pay it. I actually emotionally kind of think we shouldn't. But intellectually I think I am at a place now where I feel like we probably should.
Me, I'm still standing behind what I wrote in a piece called "On moral obligations" back on April 18:
…I'm really hoping it ends up being financially advantageous not to pay the bondholders – that way we can save money AND we'll see who in Rhode Island is a real small government conservative and who is acting like a friend to the taxpayer when they are secretly just advocating for Wall Street and corporate America's interest in our state government.