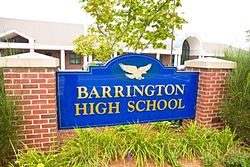 There are, at least, three major conundrums that need to be addressed before Barrington can move forward with its proposal to offer out-of-district students to attend the high-performing school district if they can afford to pay tuition.
The most obvious are the legal issues, and we detailed them yesterday. The public school system will need to devise either a formula or an admissions process by which it can demonstrate it is not discriminating against students with special needs – or, in other words, students that cost more money to educate than the average student. And, as of yesterday, Barrington had yet to even consult a lawyer, though Patrick Guida, both the chair of the local school committee and the vice chair of the state board of regents, told me the idea has been kicking around since January.
The second issue that must be addressed are moral and/or political and concern selling off the commons. By default, the government of Barrington will be offering up the fruits of its local tax base to a select group of citizens: those who can afford it. Maryellen Butke, the executive director of RI-CAN summed this up well, saying:
"What we need to work towards is ensuring all our students in every community, regardless of their income level or background, have access to a 'Barrington' education. Those who don't have the means to move to a high performing community like Barrington or pay the $12,800 in tuition deserve access to a high quality public education as well."
But there's also a potential budget problem. In Rhode Island, don't forget, the money follows the student. So not only would Barrington get a tuition check from the private sector parents, it would also get a check for the same amount from the state of Rhode Island. And if that student came from Providence, that school district would lose $16,600, its average cost per pupil.
It's likely that the preponderance of students who apply to pay tuition to go to Barrington will be from the East Side, Rumford or Bristol (and why not Swansea?). If even just four of the 10 students selected are from just one district, that town just lost the price of a teacher but probably not enough students to downsize accordingly.
Legal, Moral, Fiscal Issues for Barrington Tuition Idea

,