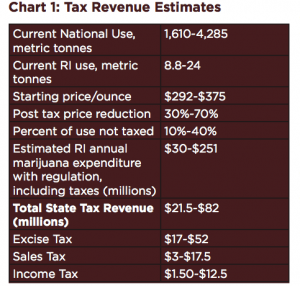 Legalizing marijuana in Rhode Island would generate $21.5 to $82 million in new tax revenue, according to a new report from OpenDoorsRI a group that works with formerly incarcerated people in Rhode Island.
"Resulting taxes would generate $7.6 to $21 million for alcohol and drug abuse treatment and education, $10.5 to $50 million for the general fund, and $1.9 to $5.2 million for medical marijuana research," according to a press release with the new report.
The two estimates are based on current marijuana use which is difficult to monitor accurately because it is unregulated. The report assumes .55 percent of American pot users live in Rhode Island* and use between 1 and 3 grams of marijuana weekly and pay $292 to $375 an ounce.
The report says Rhode Islanders who grow their own pot will not be taxed, according to the current bills before the General Assembly.
The new report indicates cost savings on criminal prosecutions would be less dramatic, estimating a savings of about $100,000. "While the collective financial savings are not huge, this legislation will free up important bed space, police time, and prosecution and judiciary time that is currently spent prosecuting these cases every year," it says.
Far greater are what the report calls the "human costs" of keeping marijuana illegal. It uses the real-life story of Providence native Josh Giorgi, who was arrested for selling pot while a student at URI in 2006.
Josh Giorgi was a freshman at University of Rhode Island studying wildlife conservation when he was arrested for marijuana delivery in an undercover operation in 2006. The sting resulted in the arrests of nine individuals for drug delivery charges, but Giorgi was one of only two that ended up with a prison sentence. Giorgi served 13 months in prison in both the training school and the Adult Correctional Institute for the charges, and he will be on probation until he is 28. Giorgi, a Federal Hill native, says he was dealing marijuana on a small scale to help pay his tuition. He was never arrested for anything else prior to or since that conviction.

After release, he says he applied to jobs and apprenticeships everywhere but most places would not take him because of his record. He started working in a local grocery store that did not do background checks. He continued to work hard and find more skilled employment, and for the last three and a half years, he has worked for an international manufacturing company with offices in Rhode Island, working his way up to logistic coordinator. He owns a house and is now a father.

Despite his hard work and success, he says that because of that one mistake, he was treated like a serious criminal, and he continues to pay a heavy price. He was unable to re-enroll in school and was never able to complete college. Though he hopes to return at some point, his felony record continues to present obstacles.

"I made a mistake, but I am not a criminal," he says. "I do not want to see anyone else's life ruined like mine was for selling marijuana, but as long as people use marijuana, they will buy it from someone. So someone will keep going to prison until people that want it have a legal way to buy it."
*Corrected. An earlier version of this post said .55% of RIers use pot. Jared Moffat of Regulate RI said about 13 percent of Rhode Islanders use marijuana.