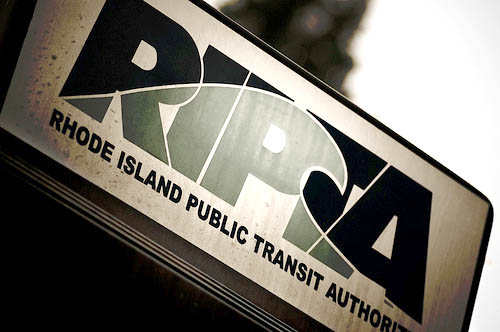 Who cares about buses? Apparently no one on Smith Hill.
The House Budget, to be voted on Thursday, contains not a penny in new revenue for RIPTA. It also contains no ideas, proposals, or signs that anyone in the House Fiscal staff spent more than a dozen minutes thinking about the agency. This is hardly surprising, since the Governor's budget didn't have anything to say about it, either. Despite several years of a funding crisis, RIPTA still struggles to get anyone's attention.
This, of course, is also hardly surprising. No one in a position of authority actually rides the bus. The Governor doesn't, the Speaker doesn't, the Senate President doesn't, even though the service from Newport to Providence is excellent, with over 60 buses traveling back and forth every day. There aren't even any members of the RIPTA board who are regular bus riders, besides Anna Liebenow, who has MS and uses a wheelchair. Two current board members have told me they made a point to get on the bus once or twice after their appointment, but that's not quite the same thing, is it?
This isn't to say that no one rides the bus. RIPTA provided 26 million rides last year, which works out to serving between twenty and fifty thousand people every day. Over half of them are riding to and from work (like me). Lots of them own cars, which they leave at home to leave more room on the highway and more parking spaces for you.
And, of course, lots of them don't own cars, or can't drive, and the bus is their lifeline, the way they get around this state. But who cares about them?  In the halls of the state house, RIPTA is widely viewed as a program for poor people. Consequently it is a poor system, and it's therefore socially acceptable in that world to ignore it. There are a couple of seats on its board designated for people who represent either poor people or disabled ones, and that's pretty much that.
The House budget does provide for some capital investment to buy new buses, but that's not RIPTA's problem. Their problem is that a big part of their budget comes from the gas tax, and when gas prices rise, more people ride the bus and less gas is sold. Since the gas tax is a set number of pennies per gallon of gas (9.25 cents out of the 32 cent per gallon gas tax), when gas prices rise they get more riders at the same time they get less money. It's a crazy way to fund the system, but that's nothing new. Now, despite several years of three-dollar gas and full buses — standing room is not unusual on the lines I ride — there has been zero constructive action to fix the problem.
You should understand a couple more things about RIPTA. One is that compared to other similar sized systems, we get very good return for our dollar from the agency. Comparing rides provided per year to expenses, RIPTA comes out very well in head-to-head matchups with its peers around the country. The other is that to my knowledge, except for a one or maybe two subway lines in Japan, there aren't any public transit systems anywhere in the world that don't have a subsidy of some kind. Just as there aren't any road systems who don't require a subsidy. Public transit is a matter of public infrastructure and should be supported as such. We're not talking about a mint.  RIPTA's deficit is estimated at about $9 million at this point, a little more than one thousandth of the overall budget.
At the current deficit, and with no change at all, RIPTA has approximately half a year left before they can't make payroll. This won't happen, of course. What will happen is service cuts that will be devastating for everyone who relies on the bus. Without buses there will be around 10,000 more cars on Rhode Island roads every day, along with many more people than that cut off from jobs they travel to, or just unable to get around because they can't afford a car — or because they can't drive.
So come on, tell your Representative or Senator that we need public transit. (And do it today!)  We don't need more buses without the money to run them. Call Helio Melo, the House Finance chair and tell him that just because he doesn't ride the bus doesn't mean that nobody does. Tell Gordon Fox that not everyone can afford a car. Tell Teresa Paiva-Weed that our state will be a cleaner, more pleasant place to live — and drive — with a healthy and well-funded bus system. We need more people on the bus, not fewer, and letting RIPTA choke on gas tax fumes is exactly the wrong direction for our state to be going.
Legislature Ignores Public Transit in Budget

,