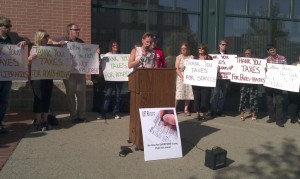 A group of dedicated activists made the case for the tax equity bills in the General Assembly on Tax Day. Standing in front of the now-abandoned Network RI, LIFT (Lasting Investment Through Fair Taxes) RI assembled speakers from a variety of backgrounds to demonstrate the need for taking the steps necessary to prevent brutal cuts to state programs.
Signs like "Thank You Taxes for Parks and Beaches" and "Don't Tread on Me, Tread on Someone Richer" dotted LIFT's supporters as speakers like Ryan Fox, an unemployed graduate of Rhode Island College argued that the General Assembly should stop funding tax cuts for those making over $250,000 a year. "I'm not asking for a handout," he told the crowd, as he related a story of the difficulty he's had in obtaining full-time work in Rhode Island, at times getting finding paid work in Massachusetts. He said he didn't want to leave Rhode Island, but the unemployment rate and lack of work forced him to look elsewhere.
The theme of just barely getting by in Rhode Island's tough economy was predominant. Karen Baldwin, a direct care staffer for the developmentally disabled, told the crowd that she worked not to become rich, but because she truly cared for the people she worked with. Likewise, Wilma Smith, a Pawtucket resident and student at Rhode Island College, said that she was already facing $14,000 in debt, and her family's discussions were tending towards how to support themselves in the face of those costs. There are already cuts in store for support to the developmentally disabled, and the cost of college education is being fought over at the State House.
Conversations like these are more and more likely to crop up as the state faces hard cuts, municipal bankruptcies, and one of the highest unemployment rates in the country. General Assembly leadership have already signaled their opposition to the tax equity bills proposed by Rep. Maria Cimini and Sen. Joshua Miller, despite large numbers of sponsors.
Middle Class, Lift RI Rally for Income Tax Equity

,