A 32-foot lobster boat, the Henry David T, managed to stop a 688-foot cargo ship from delivering 40,000 tons of coal to Brayton Point last week."The action may have been a preview of protests being planned against the power plant by New England activists on July 27 and July 28," reports East Bay Newspapers.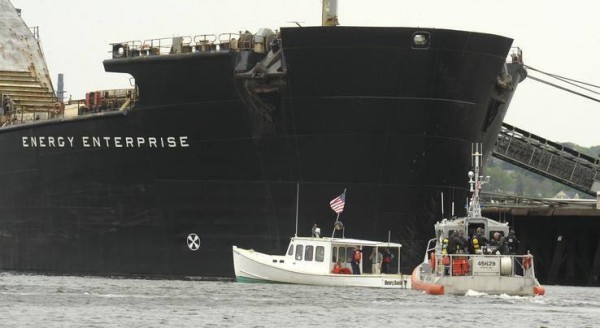 Activists are calling for Brayton Point to be shut down. Check out their website here. This summer, it says, "over one thousand people will participate in a march from Brayton Point to the future site of the nation's first offshore wind farm to demonstrate our support for a transition from the fossil fuels of the past to the clean energy of the future."
Why are they calling for the coal plant to be shut down? Well, one reason is, according to the newspaper, it seems to be giving the neighbors cancer. They report:
Brayton Point power plant neighbors complain about the impact of the plant's operations on their homes and health. On resident in his '70′s, who declined to give his name, said he has cancer, his wife has cancer, and so did eight others on his street alone (naming them). "We call it cancer alley," he said of his street.
Little lobster boat takes on Big Coal at Brayton Point

,