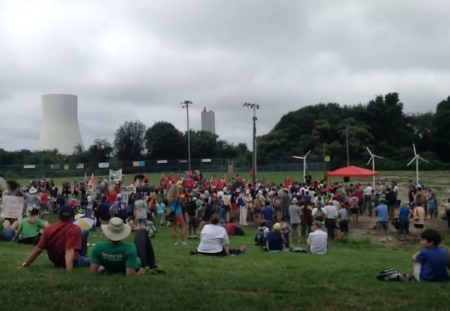 Environmental activists are gathered outside Brayton Point power plant in a mass protest today. They hope to shut down the major source of electricity in Southern New England to call attention to the role power plant pollution has in climate change and overall environmental degradation.
You can watch it live here:

Live streaming video by UstreamCheck out the Facebook page and here's a statement from the activists:
We are calling upon Massachusetts Governor Deval Patrick to shut down Brayton Point, the largest coal and gas-fired power plant in New England. Brayton Point is bad for our climate: in 2010, it emitted 6 million of tons of carbon dioxide, making it one of the largest sources of greenhouse gases in all of New England. If we are to have any hope of solving the climate crisis, we must move beyond coal and replace it with renewable energy (not gas). Brayton Point is also bad for our health. Each year, the plant spews 15,000 pounds of mercury, arsenic, lead, and other hazardous air pollutants into the air, just down the road from where children play baseball. These pollutants can seriously damage the heart, brain and lungs.