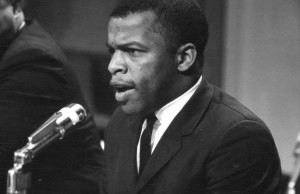 Georgia Congressman John Lewis, a living legend of the Civil Rights Movement, is coming to the Ocean State to celebrate the 100th anniversary of the Providence chapter of the NAACP, according to a press release from the group.
"Congressman Lewis, from the state of Georgia, is the only living person who marched and spoke with Dr. Martin Luther King Jr. at the march on Washington in 1963.  He has endured beatings, arrests and vilification as he has fought for equal rights for all citizens of our great country," said chapter President Jim Vincent in the email.
The event is Friday, Nov 1 at 5:30 at the Providence Marriott. You can buy tickets here.
John Lewis is an American hero. He rode with the Freedom Riders and marched with Martin Luther King. He led 600 activists across the Edmund Pettus Bridge in Selma, Alabama for which he withstood a beating from the state police. He was arrested 40 times for standing up to unjust laws.
Read this great NPR story on Congressman Lewis and watch this great video of him speaking at the 50th Anniversary of the March on Washington:
And while you're at it, watch this video I made of my trip with the Providence NAACP to see him speak:
And here are the other people who will be honored at the event:
James Diossa– Mayor, Central Falls who will receive the Medgar Evers Award
Rossi Harris– Magistrate, RI Family Court who will receive the Thurgood Marshall Award
Melissa Husband- Executive Director, Community Action Partnership of Providence will receive the Martin Luther King, Jr. Award
Alisha Pina– Reporter, Providence Journal who will be presented with the George S. Lima Award
Lisa Ranglin– President, RI Black Business Association will be awarded the Rosa Parks Award
Misty Wilson– DARE, Ban the Box Campaign will be awarded the Ida B. Wells-Barnett Award
Jimmy Winters– Newport Housing Hotline will be awarded the Joseph G. LeCount Award
Living legend John Lewis coming to Rhode Island

,