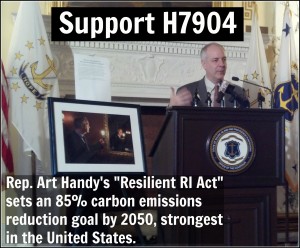 On Wednesday, April 30th – to cap off Earth Month, and as state lawmakers begin the last leg of the 2014 legislative session – the Environment Council of Rhode Island (ECRI) is holding its annual "Earth Day at the State House" from 2:30 – 4:30.
With the Rhode Island General Assembly considering legislation to cap global warming pollution, expand renewable energy, ban plastic bags, implement statewide composting, and more, this event couldn't come at a better time. Join environmental advocates, activists, organizations, and concerned citizens to lobby for Rhode Island's environment and move key policies forward. All are invited, and RSVPs are encouraged.
We'll have informational tables to educate lawmakers about environmental issues, a speaking program including the House and Senate environment committee chairs and the DEM director, and a group lobbying effort on ECRI's 2014 legislative agenda, with a focus on six priority bills:
The Resilient Rhode Island Act (H7904) to cap global warming pollution and establish infrastructure for climate change adaptation.
Food Residuals Recycling (H7033, S2315) to create a statewide organics diversion program to compost food scrap.
The Plastic Waste Reduction Act (H7178, S2314) to ban single-use plastic bags from being distributed at point-of-sale in retail establishments.
Restoring the state's Renewable Energy Tax Credit (H7083, S2213), which provides a tax credit for 25% of the cost of residential renewable energy projects.
The Distributed Generation Growth Program (H7727, S2690) to extend, expand, and improve Rhode Island's key program to develop new in-state renewable energy production.
The Clean Water, Open Space, and Healthy Communities Bond (Article 5, Question 4 of the Governor's budget), which would create a November ballot question to authorize the issuance of nearly $100 million in bonds for clean water, green infrastructure, and other environmentally important projects.
To RSVP to lobby and/or request table space at the event, contact Channing atcjones@environmentrhodeisland.org or 684-1668. You can also RSVP and share the event on Facebook.
Wednesday, April 30th; 2:30 – 4:30 pm
Rhode Island State House (82 Smith St. in Providence), main rotunda
Timeline:
– 2:30: participants begin to arrive, tablers set up tables
– 3:00: Lobbying 101 orientation and issue overview
– 3:30: speaking program including State Rep. Art Handy, State Sen. Sue Sosnowski, and DEM Director Janet Coit
– 3:45: group lobbying effort on above bills and/or other environmental issues
~ 4:15: environmental leaders honored on House and Senate floor
As the coalition representing Rhode Island's environmental community, with over 60 member organizations and individuals, ECRI's mission is to serve as an effective voice for developing and advocating policies and laws that protect and enhance Rhode Island's environment.
State lawmakers have a chance this spring to distinguish Rhode Island as an environmental leader. As a dense coastal state, Rhode Island faces a unique set of environmental challenges and opportunities. Protecting Rhode Island's environment––our air, water, and special places––will improve our quality of life and provide new chances for growth and innovation.