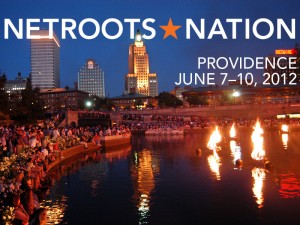 What would Netroots Nation in Providence be without a toast from the local progressive community?
The annual conference of lefty journalists and activists kicks off here Thursday morning, but the party starts the night before. RI Future and Working RI, a coalition of local labor unions and community activists, is hosting a happy hour from 6 to 8 p.m. on Wednesday in the Convention Center Rotunda.
The Netroots staff will be putting the finishing touches on the big three-day event of progressive speakers and panels and networking opportunities, and it'll be a great opportunity to welcome them to the Ocean State.
Called "one of America's fastest rising progressive voices in radio, "Jeff Santos, of Revolution Radio in Boston, will be opening his Real Romney Tour then too. Come see the first night of his eight city tour exposing the hypocrisy of Mitt Romney. His live broadcast, featuring live music and comedy, starts at 5 pm and it would be great to have a crowd for that.
Plus, you can have a drink with me, labor leader George Nee, organizer and former congressional candidate David Segal, progressive legislators Art Handy and Teresa Tanzi, Pat Crowley, who has done a fantastic job putting the party together, and many many more.
Here's the Facebook invitation (in case we forgot to send it to you personally). Please let us know you're coming.
We'll be posting a lot more on Netroots this week so stay tuned … for an overview, check out their site here, and for a list of speakers check out the preview the Netroots staff recently posted to RI Future.
Here's a compilation of some of the panels that will speak to local concerns we posted way back in April. And here's the complete list.
We also set up a page with a Netroots-centric Twitter widget so you can keep abreast of all the action live.
Hope to see you all Wednesday night for a toast … and then at the conference the next day through the weekend!