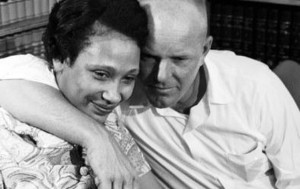 As the struggle for marriage equality in Rhode Island continues, and as the state Coalition Against Racial Profiling prepares for the reintroduction next week of its anti-racial profiling bill, the story of Mildred and Richard Loving is more timely than ever.
You can come watch the movie with the Rhode Island chapter of the ACLU Monday at 6:00 PM, in the RIC 
Student Union Ballroom. You can also watch the trailer here:
The Lovings were an interracial couple arrested for miscegenation in 1958 and exiled from Virginia. With the help of the ACLU, they took their case to the U.S. Supreme Court, which in 1967 – finally —  struck down these discriminatory laws across the nation.
Last September, the RI ACLU hosted a packed screening of "The Loving Story," an award-winning HBO documentary about the case, at the Cable Car. On Monday, to kick off African-American history month, the ACLU and the Unity Center at Rhode Island College are planning to hold another free screening of this film at RIC to which the public is invited.
Tracing the history of the case, the film provides a compelling parallel to the contemporary issue of marriage equality, while also documenting the deep-seated nature of racial discrimination that still permeates our society.
We encourage you to attend, as it can only fuel the sense of urgency behind having 2013 finally be the year that the Rhode Island legislature both approves marriage equality for same-sex couples and enacts measures designed to reduce the unconscionable level of racial profiling that still exists on the streets and highways of Rhode Island.
'Loving Story' Marriage Equality Movie on Monday

,