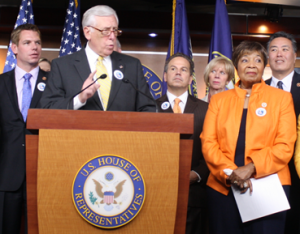 As many RI Future readers may already know, I joined House Democratic Whip Steny Hoyer and other House Democrats to announce the Make it in America plan – a comprehensive series of legislative proposals that will help reinvigorate American manufacturing and put men and women across America back to work in the kinds of good-paying jobs that built this great country's middle class.
This agenda also includes a bill that I have introduced, the Make it in America Manufacturing Act, that establishes a competitive block grant program that provides small to medium-sized manufacturers with resources to retool their factories and retrain their workers to compete in a global economy.
I believe strongly that if we want to get our economy back on the right track, we have to start making things again in this country. That's why, yesterday, I spoke on the House floor and highlighted the importance of Congress working to pass the commonsense proposals that are included in the Make it in America plan – a video of my speech is embedded below.
I hope you'll join me in working to make sure that Congress acts soon on these pragmatic, progressive ideas for getting America back to work. Click here to visit the official Make it in America website and learn more right now.