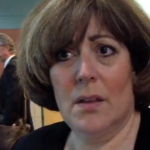 A high stakes test graduation requirement is outlawed until 2017, but it's still pitting Board of Education Chairwoman Eva Mancuso against the activists who fought to ban it.
The Providence Journal reports that using the NECAP test as a graduation requirement would have only deprived one student of a diploma, and in that article Mancuso is quoted as saying: "Maybe everybody should trust the professionals rather than running behind our backs and going to the legislature. The system worked just fine."
In "response" six groups who argued to suspend the NECAP graduation requirement, sent a letter to legislative leaders:
An article in today's Providence Journal quotes RI Board of Education Chair Eva S Marie Mancuso as citing RIDE! data that only one student benefitted from the "high stakes testing" moratorium bill that passed at the end of the session. In doing so, she suggests that passage of the law was unnecessary (or worse), and that its impact was negligible. Since she expressed interest in informing the General Assembly about the law's impact from the Board's perspective, our organizations thought! it worth making you aware of! it from our less defensive posture.
The groups are the RI ACLU, the Providence NAACP, the Providence Student Union, young Voices, RI Teachers of English Language Learners and Parents Across Rhode Island.  You can read the letter here. It says the data is inaccurate (the ProJo article says only one student would have been denied a diploma but the ACLU says this document shows that three students in Bristol alone would not have graduated) and that the number of students potentially denied a diploma was but one reason for the moratorium.
"But perhaps its most important impact is in ensuring that, at least for the next three years, teachers won't have to waste hours and hours of classroom time teaching to an irrelevant test, and students won't be dragged out of real classwork in order to spend pointless hours cramming for a meaningless standardized test."