Eva Mancuso, chairwoman of the new state Board of Education, doesn't think the NECAPs are the best test to use as a graduation requirement and said the board will revisit the decision to use it as such. There are unanswered questions about the tests effectiveness and whether or not local school districts support it, she said.
This will be the Board's first debate on the NECAPs as a graduation requirement and/or high stakes testing as a graduation requirement (two separate debates, mind you!). The idea was initially passed two years ago  (correction: Jason Becker said it was 2008) by its predecessor, the Board of Regents.
High stakes standardized tests as a graduation requirement, a major effort of the so-called education reform movement that is causing controversy from Seattle to New England, became a high profile political issue this year when 40 percent of high school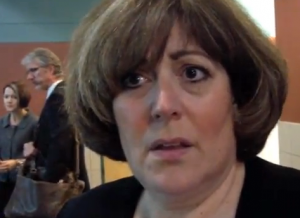 juniors didn't score well enough to graduate from high school. This is the first year Rhode Island is using a standardized test as a graduation requirement and, unlike other standardized tests, the New England Common Assessment Program  was not designed to be used as a graduation requirement.
Tom Sgouros has argued it isn't an effective tool for measuring individual student performance. The Providence Student Union raised the profile of the issue even higher when they organized a group of adult community leaders to take the test; 60 percent of them didn't do well enough to warrant a high school diploma.