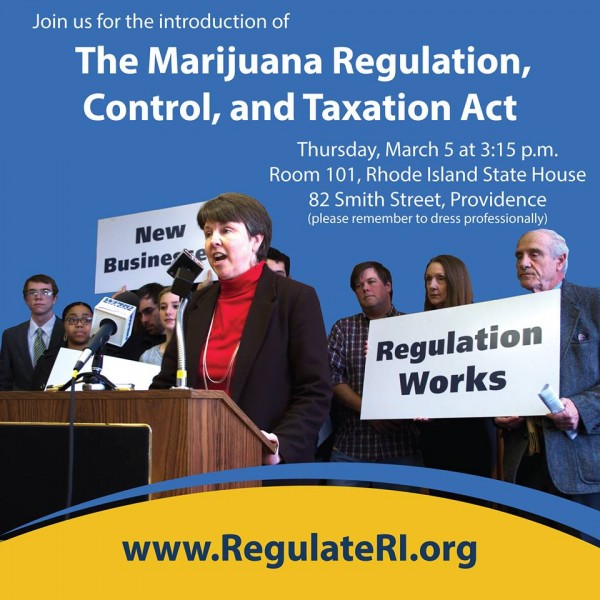 "Prohibiting the cultivation and sale of marijuana to adults has proven to be ineffective, unfair, and costly policy for the state of Rhode Island," reads the Senate version of a bill that would tax and regulate marijuana in Rhode Island. The House version will be introduced at an event Thursday, 3:15 at the State House.
If passed, the legislation – sponsored in the Senate by Josh Miller of Cranston, and in the House by Scott Slater of Providence – could make Rhode Island the first state legislature to legalize marijuana. Colorado and Washington both legalized pot in 2014 through a referendum, as did Alaska this winter. Vermont is expected to legalize next year and Washington DC recently did so.
Rhode Island leaders have taken a wait-and-see attitude. But the allure of new tax revenue – a report last year estimated the state could generate $20 to $80 million – and the potential new businesses has been hard to ignore. It's also a social justice issue as ACLU and NAACP leaders have pointed out that minority populations are disproportionately targeted by marijuana arrests and incarcerations.
"Representative Slater and Senator Miller are introducing a well-crafted, well-researched bill that would end the failed policy of marijuana prohibition in our state," said Jared Moffat, of Regulate RI, the group advocating for passage of the bill. He said it "includes commonsense public health provisions, such as requiring opaque packing for all marijuana products, limiting edible products to one serving of THC, restricting advertising, and mandating the inclusion of safety inserts with important information about responsible consumption with each marijuana product sold."
The bill would exempt anyone in Rhode Island from being prosecuted under state drugs laws if they possess up to one ounce of marijuana. It would also allow people to grow indoors one mature marijuana plant.
"Smoking marijuana shall be prohibited in all public places," says the Senate version of the bill, and it would carry a $250 fine for smoking pot in an indoor public place and a $150 fine for smoking pot at an outdoor public place.
Unless given approval from the state Department of Health, it will still be illegal to sell marijuana. Applying for this approval could cost $5,000, according to the bill, and there will be a $10,000 annual permit to sell marijuana. There is no state limit on the number of businesses that could sell marijuana and the Department of Business Regulation is instructed by the bill to consider at least two. Marijuana retailers would have to include a warning label with their product.
There would be two taxes on legal marijuana; a $50 per ounce excise tax – some 40 percent of which would go to drug and alcohol treatment and prevention while another 10 percent would go to law enforcement – and a 10 percent sales tax.
Marijuana tax and regulate bill introduced Thursday

,