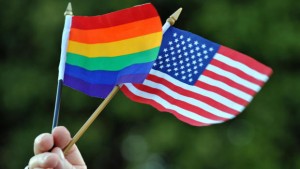 With the words "marriage equality" on the minds and tongues of thousands of passionate progressives, in Little Rhodey and the rest of the nation, we must remind ourselves that LGBT folks face a variety of other important issues.
Sadly, studies have shown that LGBT people are 2 to 4 times as likely to commit suicide, which speaks to the severe lack of protection, support, and resources available to my community.  Bisexual and transgender individuals have been largely ignored, in both straight and gay circles, (which became increasingly obvious during the repeal of DADT), and statistics measuring their mental/physical well-being reflect this.  Moreover, while federal laws protect workers from being discriminated against because of their race, religion, sex, age, national origin, and disability, they can still be fired for their sexual orientation or gender identity.
Despite the optimistic "It Gets Better" mantra/movement, it gets worse:  LGBT people can be evicted because of their sexual orientation or gender identity in 29 states.  Seven states still ban adoption by same-sex couples.  Nearly half of all homeless youth identify as LGBT, and the most prevalent reason for their homelessness is family rejection.
In an abusive same-sex relationship?  Well, good luck!  According to a study by the National Coalition of Anti-Violence Programs, 45% of LGBT victims were turned away when they sought assistance from a domestic violence shelter. Over half of those who filed for protection orders were denied them.  This is rather disturbing, given the results of a 2010 Centers for Disease Control and Prevention survey:  61% of bisexual women and 44% of lesbian women reported intimate partner violence.
With all of our focus on same-sex marriage, it is essential to avoid putting these conversations on the back burner.  Speaking as a bisexual woman in a long-term relationship with another bisexual woman,  I know from experience how challenging it is to remain healthy, strong, confident, and safe, in the face of homophobic attitudes, hostile work environments, and much worse.  If we think that our work is done because marriage equality has been won, we are terribly mistaken.
And on that note, my friends and allies, as the season of Pride approaches, check out some wonderful events happening in the Ocean State this month:
April 3 PFLAG of Greater Providence meeting, 6:45-8:45 p.m. The Met School, 325 Public St., Providence. 751-7571.
April 5 Luna's Ladies Night, 9 p.m. Roots Cultural Center, 276 Westminster St., Providence.
Live music, DJ, special events. 21+ $6 cover. See www.lunaspvd.com.
April 7 RI Pride Triple Crown Pageant, 7-10 p.m. Providence Biltmore Hotel, 11 Dorrance St.  Doors open at 6 p.m. For more information & tickets see www.prideri.com, or
e-mail Info@prideri.com.
April 14 RI Prime Timers, 4:30-7p.m. Social and networking for gay and bisexual men 40+.
Social, dinner and meeting. www.riprimetimers.org or call Steve at 996-3010.
April 16 Borderlands 7-9 p.m. A peer-led support group open to transgender, transsexual, gender-variant, and intersex people and to those who are questioning. Meeting location is withheld for participant privacy. See info@tginetwork.org for more info.
April 25 RI GLADHour: Happy Hour for Fans of LGBT Equal Justice 6-8:30 p.m. Ri Ra Irish Pub. Complimentary hors d'oeuvres • Hear from Janson Wu, GLAD Staff Attorney, about GLAD's ground-breaking work for marriage equality in Rhode Island
Marriage Not Only Issue For LGBTQ Community

,