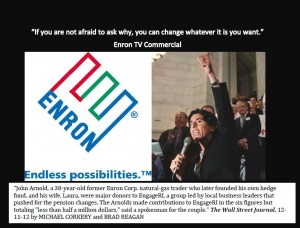 "The pension reform debate is … a dispute over which members of society will have to make sacrifices and which ones will not," Rolling Stone magazine's Matt Taibbi tells GoLocalProv.
Long before Ted Seidle parsed pension cuts as a wealth transfer from Rhode Islanders to hedge fund managers, this was the non-labor left's biggest issue with the struggle to save public sector retirement security by taking money away from public sector retirees. It is inherently wrong to ask the people who played by the rules (labor) to fit the bill for those who didn't (management).
I would argue that Raimondo's star power, bolstered by anonymous out-of-town money and an adoring local media unwittingly conspired to make a very regressive pension reform proposal seem the only sensible thing to support. There is math component to the political problem that is pension reform in that a deficit exists. But the morality part is what we do about that. All too often in today's political climate, very powerful people spend a lot of money saying the way to fix this deficit is to take from the poor and give to the rich.
Personally, I'd much prefer to live in a financially bankrupt society than a morally bankrupt one and by foisting all the responsibility on retirees, Rhode Island legislators may have made prudent moves away from the former, but they also made foolish leaps toward the latter.
Here's Taibbi's response in GoLocal:
For the record, I appreciate Treasurer Raimondo's thorough response. I understand this is a tough issue and there are heated opinions on all sides. She was gracious enough to speak to me at some length before the article came out, and she did so probably knowing that the article was going to be critical. She clearly believes she is pursuing the correct policies and the fact that she was and is willing to openly engage critics in discussions about those policies is absolutely to her credit.

However, nothing in the response released by her spokesperson Joy Fox yesterday makes me believe that we got the story wrong.

Raimondo dismisses me and her union critics as politically and ideologically motivated, which is fine and understandable. But she doesn't acknowledge that her own decisions and policies are similarly political and ideological. She presents herself as merely a technocrat who "puts politics aside" to do what's best for Rhode Island.

But this is wrong on its face. The pension reform debate is the ultimate political and ideological argument. It's a bitter fight over resources, a dispute over which members of society will have to make sacrifices and which ones will not.

The advocates of pension reform, not just in Rhode Island but across the country, believe that ordinary public workers — teachers, police, firemen — are inherently overcompensated, politically over-empowered by unions, and receive unsustainably high incomes and benefits. They also believe that the solution to the nation's fiscal problems lay in asking these workers to make the first financial sacrifices — something Raimondo (like other politicians in other states) often describes as "making tough choices." (By coincidence, these tough choices also seem quite often to involve privatizing large amounts of public retirement money into the hands of the financiers who stand behind these politician-advocates of pension reform.)

All of this falls in line with certain trends in political thought nationwide. A lot of people these days genuinely believe we must invest in employers first and foremost, and that ordinary wage-earners, public or private, are essentially drains on the bottom line, whose benefits especially are luxuries we can't afford.

It would be silly to deny that a lot of people find this ideology convincing. But it's certainly an ideology. That's why it's disingenuous when Treasurer Raimondo describes my article as political propaganda, when she had no such reservations about the public relations efforts of organizations like EngageRI and the Manhattan Institute, groups that not only supported her politically, but which have clear financial interests in this debate. But this a common tactic, dismissing critics of pension reform as ideologues clouded by frustration and unreason, while pension reform itself — well, that's just math.

Having interviewed public workers in Rhode Island and in many other states, I know that state employees on the whole are absolutely willing to make sacrifices, if they're needed to help states get out of fiscal crises. What they resent is being told they're the cause of these crises and that the size of the sacrifices they must make is beyond debate and just mathematical fact. Time and again, when they ask questions about the reform plans, they're dismissed as recalcitrant ideologues unwilling to accept reality. This is condescending and I think they're right to be angry about it. Talking about omitting facts, most of these people haven't been told even part of the story about the widespread crime and fraud in the mortgage/finance sector that caused the crash and put the retirement savings of people all over the country in jeopardy. Going forward, they were also not told about things like high management fees, the role of consultants and placement agents, and other such dubious nooks and crannies of pension reform.

All of which is a long-winded way of saying that I think politicians like Raimondo would do better to stop pretending that pension reform is somehow not about politics. This whole thing is political, on all sides.
And here is the comment from Raimondo's spokeswoman Joy Fox he was responding to:
This is clearly a political propaganda piece driven by the critics of pension reform, including those who are paid by local labor leaders to discredit the state's reforms and its investment policies. The author does not appear to have a clear understanding of the 2011 pension process and its goals, and conveniently omits many important facts.

The Treasurer stands by the work of the General Assembly to provide retirement security for hardworking public employees and retirees.

This story also unfortunately glosses over what actually happens to people when leaders do not make tough choices. The retirees of the City of Central Falls saw their pensions cut in half. Leaders do not want the same to happen again to public employees and retirees in the state system.

In 2011, Rhode Island had a choice. It could have done nothing and been dishonest about its problem. Instead, Rhode Island leaders came together, courageously put politics aside, and made the tough decision to protect the retirements of hard working public employees and retirees."

It is important to remember:
– The treasurer fought to always keep a defined benefit pension, and always respected collective bargaining.
– Reform passed overwhelmingly in a Democrat-controlled General Assembly
– There were countless hours of labor-attended pension advisory group meetings, legislative hearings and town hall-style meetings with the Treasurer and Governor
– All but one vote to approve the hedge funds were unanimous. The only vote to approve hedge funds that was not unanimous was due to one abstention – again, showing strong SIC support to execute this investment strategy.