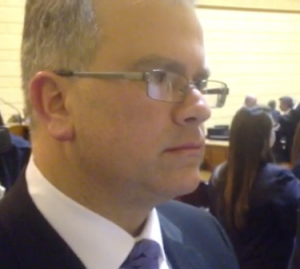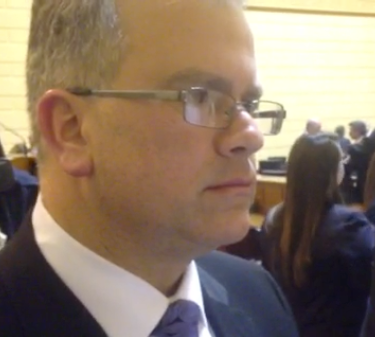 Senate President Teresa Paiva-Weed and House Speaker Nick Mattiello just made a striking shift about the 38 Studios bailout, which is interesting since they both have a history of supporting the bailout.
Go back to what Paiva-Weed, and former Speaker Gordon Fox, said when the 38 Studios bonds were being issued.  At that time, in 2010, Fox and Paiva-Weed told Wall Street's credit-rating agencies that the state would bail out 38 Studios bondholders if 38 Studios was unable to pay, although the Rhode Island Constitution forbids the General Assembly to "pledge the faith of the state for the payment of the obligations of others" without voter consent.  Still, even though our constitution is meant to give voters the right to have a say whenever the state is pledged to pay, Fox and Paiva-Weed did their best to get around our constitutional right and signaled that they would get the General Assembly to do a bailout if one was requested.  The rating agencies decided to act as if there really was a promise by the state to pay, as if it really was state debt—though of course our state really didn't have any kind of obligation, because the procedures that the constitution designed to protect taxpayers were never followed.  Since the Speaker and the Senate President were in favor of making taxpayers pay for a bailout if need be, their perceived unofficial clout was enough to make some Wall Streeters think they could profit from participating in this dirty deal, even though 38 Studios didn't seem to have  a very viable business.
But the State House leaders are taking a different line in today's Providence Journal.  Paiva-Weed now says that what she said to the rating agencies in 2010 is not binding now, and Mattiello similarly says that he's not bound by what Fox said then even though Mattiello had been Fox's #2 at the time.  Instead, Paiva-Weed and Mattiello now say that they'll look at what's best for Rhode Island right now (since we all know that our State House leaders are dedicated to figuring out what's best for Rhode Island).
Paiva-Weed has been a longtime bailout supporter.  Last June, when the House was debating the state budget, Mattiello was a big advocate on the House floor for bailing out 38 Studios bondholders.  This year, Mattiello is often portrayed in the media as someone who hasn't taken a position about a bailout.  In today's story, Paiva-Weed and Mattiello don't say that they're against the bailout.  And I wouldn't be surprised if they go back to saying that taxpayers should pay for this debt which we don't owe, like they've said in the past.  But they're now saying that if they come out in favor of a bailout it will be because of what's best for the state right now, not because of the personal pledge to the Wall Street rating agencies that was made in 2010.
It's no secret that the 38 Studios bailout is very unpopular.  The strongest advocates for a bailout have been those in high-ranking positions, like Fox and Paiva-Weed and (last year) Mattiello.  After all, it's generally those in high places who arrange all sorts of shady deals like 38 Studios, and it helps them if they can continue the tradition that those who seek to profit from these dirty deals will always be assured of being paid.  If you go a little further down the power ladder to the representatives who were actually elected by voters, there was a serious rebellion last year against doing the bailout.  And of course the bailout is even more unpopular among the voters themselves, who are the least powerful in this debate, which is why there was an effort to stick them with the bill in the first place.
From what I hear, a sizeable number of politicians who have to face the voters are planning to vote against the 38 Studios bailout this year, though there are also lots of politicians who are holding out against the voters' will and supporting a bailout.
What I notice about the statement in today's Projo by Mattiello and Paiva-Weed is that it's exactly the kind of thing that would provoke the Wall Street rating agencies.  Paiva-Weed is pretty clearly going back on what she said to the rating agencies 4 years ago.  Mattiello is making a similar shift, even though he's known to belong to the same clique as former speaker Gordon Fox and the preceding speaker William Murphy. Because Paiva-Weed and Mattiello said what they did in today's Projo, we're likely to see a downgrade by credit-rating agencies now that's quicker or more severe than it would have been if Paiva-Weed and Mattiello had said nothing.
If Paiva-Weed and Mattiello have decided that they need a big downgrade to scare people into supporting the bailout, they're doing exactly the right thing to anger the credit-rating agencies and provoke a big reaction, even though Paiva-Weed and Mattiello have always been careful not to suggest that they're actually against a bailout.  If all this works, we get a serious ratings downgrade, the politicians pass the bailout again, the crooks on Wall Street immediately put us back to a higher rating, and our unelected leaders get to preserve their reputation as people who can insure that those who want to be paid in these kinds of dirty deals will get a taxpayer bailout.
Let's remember, by the way, that our credit rating is actually not the most important thing.  Good investors look past the credit rating on a bond and do their own due diligence to see whether the bond is a good investment.  They have to do that, since the credit-rating agencies got a reputation for doing shoddy work during the financial crisis, putting AAA ratings on investments that were worthless.
I assume that the rating agencies will lower our state's credit rating, even on the legally binding voter-approved debt that's obviously going to be paid no matter what happens.  So yes, ratings agencies can certainly make these unjustified ratings as a way to pressure us into a bailout, but those rating agencies don't speak for the whole market.  Whether the rating agencies lower our voter-approved bond rating to BBB, or further to B, or even to D, doesn't matter as much as what investors are willing to pay.
It's traditional for rating agencies to retaliate, but it's the business of smart investors to look instead at whether their investments will make a profit.  Since we're a small state that needs to sell only a small number of bonds, we only need a few smart investors, as I explained earlier.  So let's put aside the hype about credit ratings.  Focusing on retaliatory credit ratings downgrades, rather than on what's a good deal for investors in our voter-approved bonds, is exactly what people do when they want to present a slanted case for a bailout.  For investors who want to buy legitimate, voter-approved bonds, we can actually offer a better deal when we don't let the insiders waste our scarce taxpayer money on bailing out their dirty deals like 38 Studios.