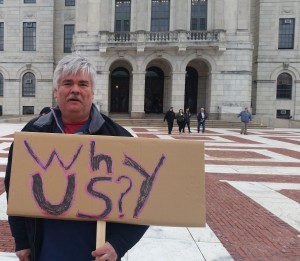 Opponents of Governor Gina Raimondo's proposed tax on medical marijuana gathered outside the State House Tuesday evening to raise awareness about what some have called "an absolutely cruel proposal" to tax medical marijuana.
There is no other proposal like it anywhere in the country, and under Raimondo's proposal marijuana will be the only medicine taxed in this way. Since the proposal has been inserted into the budget, rather than submitted as a bill, there will be no opportunity for the public to comment on the idea in House or Senate committee meetings so the only route opponents can follow to stop this plan is to pressure their Representatives to remove the item from the budget or refuse to pass the budget if the tax is not removed.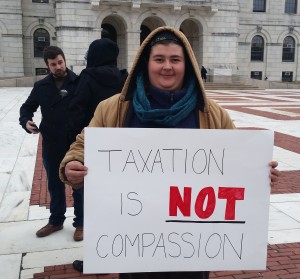 Almost more pernicious than the tax, though, are the other provisions included in what amounts to a complete restructuring of the way medical marijuana is done in our state. Those who grow their own marijuana will be forced to comply with a 75 percent reduction, six plants only, drastically reducing the amount of medicine available to patients.
Caregivers, those who grow marijuana for others may only posses 24 plants.
Opponents, such as Responsible Caregivers of Rhode Island, say this will not allow caregivers to provide an adequate amount of medicine for their patients.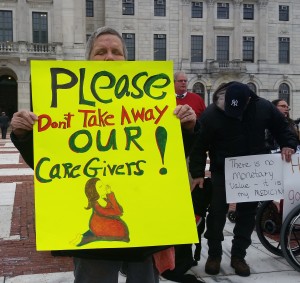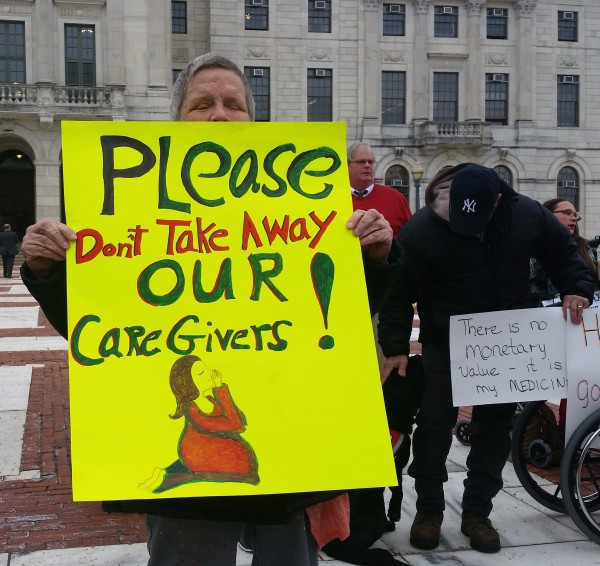 Then there is the financial devastation this plans wreaks upon caregivers. Purchase tags are now required for all plants. $150 per plant for patients who grow their own and $350 for each plant raised by caregivers for others. This makes the cost of farming marijuana prohibitive, and many will not be able to afford this. I earlier talked to a veteran who uses marijuana, legally, to keep himself from becoming re-addicted to opioids.
Since cultivating plants is essentially farming, a loss of a crop from infestation or power loss (marijuana is cultivated with grow lights) could mean that a person's entire investment and crop will be lost. This will be a loss of money and vital medicine. Further, the process of farming marijuana is not an exact science. If the plants yield extra marijuana the law allows a grower to "gift" the excess to those in need. Raimondo has disallowed gifting in her proposal.
You can see Raimondo's proposed changes to the law starting on page 194 of her proposed budget here. The reasoning behind this proposal is baffling. It is simply cruelty, and in truth, much damage has already been done to a community that uses medical marijuana to treat terrible illnesses and disabilities.
As Jared Moffat, executive director of Regulate RI said at the rally outside the State house today, rather than tax the medical marijuana that patients need, why not tax the use of recreational marijuana as is being done in Colorado with great success?