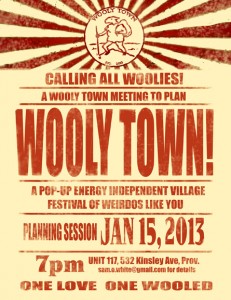 If you have not attended Wooly Fair, you are either a recent transplant or make mediocre decisions. Wooly Fair is an event so unique and so awesome that it literally defies description. Seriously, I can't count the number of times I've spent 10 minutues trying to answer the simple question "What is Wooly Fair?" only to make the questioner even more confused. Now, I just say, "If I can tell you what it is, we're doing it wrong."
But now, pretty much everybody who's ever been to a Wooly Fair has been asking, "What happened to Wooly Fair?"
The truth is that the event got too big for the rag-tag coalition of artists and activist to manage effectively. So in 2012 we chose to focus on reorganizing ourselves to support the growing event.
Now we're Wooly Town, established 2013, and bigger and better and woolier than ever. And tonight we're launching work on the 2013 Wooly Town Fair…WOOLY FAIR!!!
Wooly Town Meeting Tonight
At the Wooly Town Meeting tonight in Monohasset Mill the Wooly Town governors, who have been working for a year to get ourselves to this point, will present our plans for the 2013 Wooly Town Fair before holding an moderated, open discussion on the same. Then the various Wooly Town departments will hold a job fair and recruit people to work on various parts of the event.
Your Frymaster is director-nominee for the Wooly Town Deparment of Public Works, aka, the Wooly Works, and we have plans for wicked pissah building and stuff. But the 2013 Wooly Town Fair focuses primarily on electricity – generation, storage and delivery – so Power & Light will undertake an ambitious project to develop stand-alone, 12-volt infrastructure that will let us eliminate extension cords entirely.
Learn (barely any) more at the new Wooly Town website and/or sign up at the Facebook event linked above. And we'll see you in Wooly Town!