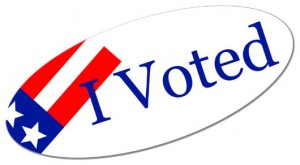 Rhode Island's controversial new voter identification law goes into effect with this year's election, and MERI has been actively working to make the process less challenging to our community, particularly transgendered individuals who could face unnecessary hinderances and potential disenfranchisement.
This afternoon, MERI  appeared in front of the Rhode Island Board of Elections and presented  testimony voicing concern that the new voter ID law has the potential to put at risk the voting rights for the 2,000 to 10,000 transgender Rhode Islanders. We raised similar concerns at a hearing with the Secretary of State's office last December.
Our testimony today focused on the proposed rules and regulations in the voter ID law as they stand and discussed their potential to place these individuals in an unwelcoming or hostile environment—an environment that is incongruous with the ideals of fairness and democracy that are supposed to define the voting process.
For example, while an individual's identification could list one gender, that individual may be in the process of transitioning or may not wholly identify with their documented gender. Furthermore, the individual's identification could list a name not traditionally associated with their gender at the time of voting. Such identification discrepancy could prompt a poll worker to initiate an awkward or embarrassing conversation that could bring the individual unnecessary and uncomfortable attention. Transgender individuals may be discouraged from even going to the polls for fear of being outed publicly.
But the dangers of the voter ID law on transgender people reach even beyond the possibility of discomfort or disenfranchisement to include the threat or act of physical violence. As many of us know, transgender people face extraordinarily levels of both verbal and physical violence in their everyday lives. The chance of public outing at polling places makes these sites especially susceptible to anti-transgender violence, and the mere possibility of such violence could demotivate transgender citizens from voting at all.
Although everyone should be able to vote at their local polling place free from fear and intimidation, the General Counsel for the Board of Elections wanted to make sure we knew we could vote by mail.  Members of the Board of Election appreciated our testimony and want to work with us moving forward to ensure the poll workers are properly trained. We'll keep you updated on our progress.
Also, thanks to one of our Spring Fellowship students, Simon, for all of his hard work on this issue!
MERI testifies at Board of Elections Hearings about Voter ID

,