After a persistent campaign by a broad coalition of environmental groups and a string of escalating acts of civil disobedience, Rhode Island mainstream media have slowly begun to question the claim that "burning natural gas is about one-half as carbon-intensive as coal, which can make it a critical bridge fuel for many countries as the world transitions to even cleaner sources of energy."
That misleading statement was pivotal in The President's Climate Action Plan of June of 2013. Business climate would have been more appropriate. But the media are discovering that the claim fails to account for the climate impacts of methane, the main constituent of "natural" gas, over its full life-cycle.
The latter starts at the well. From there, gas is transported via pipelines and compressor stations, to its final destination downstream. Gas escapes unburned at every stage.  When the global warming potential of this so-called "fugitive methane" is taken into account, it turns out that "natural" gas (both conventional and fracked) is a greater threat to the climate than coal or oil burned for any purpose. This came to light in 2011, when Cornell University researchers Anthony Ingraffea and Robert Howarth, along with actor and anti-fracking activist Mark Ruffalo, were named among Time Magazine's 50 "People Who Matter" for performing and publicizing a study that undercut the bridge-fuel claim. In April of 2014, a recent update of the research has confirmed this finding.
Meanwhile, Rhode Island continues on its misguided path of expanding the fracked-gas infrastructure with two proposed build-outs of Spectra Energy's compressor station in Burrillville—part of a 3-stage pipeline expansion that will ultimately send fracked gas from Pennsylvania to Canada for export overseas—and the planned construction of a new gas-fired power plant, also in Burrillville. In addition, there is a plan is for a liquefaction facility at Fields Point in Providence, RI.
In a striking instance of environmental racism, the LNG facility will be sited next to a residential, low-income community of color with numerous schools and day care centers, and several hospitals. The area also is the site of the Univar chemical facility which has a hazard radius of 14 miles, within which there are 311 schools with almost 110,000 children.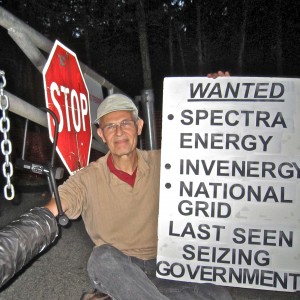 Increasingly, climate activists across the nation have mounted campaigns against fracked gas, not only because it is disastrous for the climate, but also because fracking causes wholesale destruction of communities and the environment. Indeed, the expansion of fracking and fracked-gas infrastructure across the country continues to draw people from all walks of like into defiant acts of civil disobedience.
On August 13, Curt Nordgaard and I were arrested after locking ourselves to the front gate of Spectra Energy's fracked-gas compressor station in Burrillville, Rhode Island in a direct action organized by the group Fighting Against Natural Gas (FANG) to block construction at the site.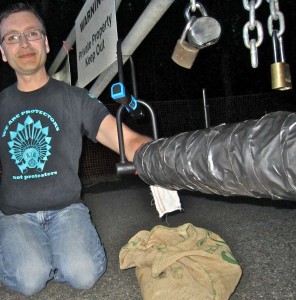 Nordgaard, a pediatrics resident at Boston Medical Center with no prior history of arrests, gave this explanation for his actions: "if we had legal means to stop this project, we would use them. Instead, we are forced to protect families and communities through nonviolent civil disobedience, in proportion to the severity of this threat."
As a professor of physics at the University of Rhode Island with four grown children and six grandchildren, I am alarmed by the destruction we visit upon the Earth they shall inherit. In the spring of 2013, we founded Fossil Free Rhode Island to push for a swift transition away from fossil fuels.
Last December, I was arrested for the first time during a sit-in in U.S. Senator Sheldon Whitehouse's office in Providence to protest his tacit support for the pipeline expansion; with this recent arrest, I have lived up to my words at that time: "Science has shown that natural gas is more dangerous for the climate than other dirty fuels such as oil and coal. This pipeline is immoral and unjust, and we will keep taking action until this project is stopped."
Let me correct a detail of the Providence Journal article Methane release from gas extraction seen as climate threat. The article states that compared to carbon-dioxide, methane is "20 times or more as potent in trapping heat while it lasts." In reality, that factor is 86 times over the first 20 years after release. Considered over a 100 year time frame, methane was considered 21 times as potent as carbon dioxide, but the IPCC revised this figure to 34; the EPA still uses 21 as the global warming potential, an estimate decades out of date.  (The ProJo has thus far chosen not to publish my Letter to the Editor with this correction.)
Numerous current developments, such as polar sea-ice loss, land-based ice sheet melt, and permafrost thawing, show unambiguously that the 20-year time frame is critical if we want to have a chance to avoid run-away climate change.
Meanwhile, our congressional delegation continues to recycle National Grid's talking points in favor of more fracked-gas infrastructure. Supposedly, it is all about avoiding price spikes and choke points.  Never mind that there were none of these last winter, as explained by Reuters in this article As New England freezes, natural gas stays cheap.
In all those years since Howarth was honored by Time as a "person who matters," and in spite of his 100+ climate change speeches in the US Senate, despite countless attempts to get him up to speed, Senator Sheldon Whitehouse has been unable to absorb the fact that, as far as global warming is concerned, natural gas is worse than coal and oil.  No surprise; this comes with our corrupt political system in which access exchanged for campaign contributions takes precedence over the common good.  Our state government, of course, is just as much a victim of the corrupt political system we still tolerate: Rhode Island Gov. Gina Raimondo's Campaign Contributions From Financial Services Industry Come Under Scrutiny.
In this picture below we see access in action: Lindsey Graham, Sheldon Whitehouse tour coal-fired plant with new technology.   I still try to teach my students to consult independent experts when they want to educate themselves. How quaint!