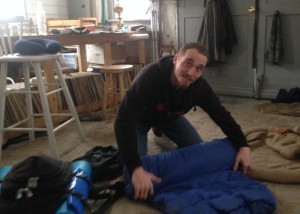 Mike McCarthy pretty much stepped away from political activism after Occupy Providence left Burnside Park in early 2012, but he's making a comeback for campaign finance reform over the next two weeks as he'll be joining Lawrence Lessig and the Rootstrikers – along with David Segal and Demand Progress – in a march from Dixville Notch to Nasshua, New Hampshire.
The approximately 200-mile trip is an effort to recruit New Hampshire residents to require presidential candidates to go on record as to how they will end corruption in Washington. Pretty simple, right?
The group, which calls itself the New Hampshire Rebellion, seems pretty serious about it. According to its website: "The NH Rebellion recognizes that New Hampshire is poised to be the tip of the spear in 2016 for the growing effort to end the system of corruption in Washington."
McCarthy came by to borrow my sleeping bag, and here's our conversation about his trip – unedited, just as he would want it published.
Mike McCarthy, David Segal and Lawrence Lessig go to New Hampshire for campaign finance reform

,