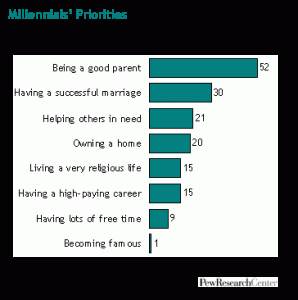 The Great Recession, spiraling debt crises, suicidal austerity, roads falling apart, the war on women, Wall Street bailouts, anti-immigrant sentiment, greater political power to religious zealots, global warming, etc., etc. I look at these and think; I can't wait for the future.
That's because I'm a Millennial, and in case you don't know, despite having the highest unemployment rate of any generation, we're also the most optimistic. And we should be. We're a Hero Generation.
There's a whole generational theory that says each one views life through certain patterns. I haven't the space to go into it now, but essentially, both the Millennial Generation and the G.I. Generation (aka. the "Greatest" Generation) have similar life events; born in a period of laissez-faire society ('20s & '80s), come of age during a crisis where we learn teamwork (the Great Recession & Great Depression), and then go on to build great societal institutions. Between our two generations, we're the most left-wing generations this country has ever had. The Silent Generation, the Boomers, and Generation X are all far more conservative in their outlooks and their politics.
My personal feeling is that this has to do with the Cold War. Think Glenn Beck or Allen West these days, railing against President Obama and the Democrats as believing in socialism or communism. This works for Boomers and Silent Generation types, even Generation X to some extent. Those generations all grew up in an era when the United States was in a global war against communism. Drills demanded that children hide under their desks in the event of nuclear attack (a completely useless measure). Contrast that with the Millennials, the oldest of which would've been eight (depending where you say the first Millennial was born) when the Berlin Wall was knocked down. The worn nuclear bomb shelter signs in my middle school were odd curiosities, as outdated as a transistor radio or pagers.
Without the threat of the Cold War, Millennials have been allowed to flourish ideologically. How different are our beliefs? If you ask Millennials about capitalism and socialism we have a slightly more favorable view of socialism. Every other generation is locked into this Cold War struggle. And for those saying Occupy Wall Street is totally socialist, guess what? Those who support Occupy Wall Street hold more favorable views of capitalism. In general terms, Millennials genuinely want government to do more. We believe it can. We have faith in it, a faith that just isn't matched by older generations.
But that's to sell ourselves short. It's not even as simple as socialism vs. capitalism. That's a Cold War mindset, something which Millennials are escaping from. What Millennials are waking up to is a whole set of ideas that veer away from that simple dichotomy. Copyright laws are running up against the impracticality of enforcement. The internet has shown us just how constructed rules are. Markets, government, etc., even these are socially constructed. Millennials are going to ask the question "why?" in ways which will be disturbing to older generations.
My generation is America's great divergent generation. We're the most diverse generation in U.S. history, we're the most educated, we're the most optimistic, we're the most tolerant, we care more about being a good parent than having a successful marriage. But beyond that, we got into less fights with our parents, and we respect our elders more, two-thirds say that personally taking care of an elderly parent is a responsibility we have; far more than Boomer or the Silent Generation types who've long since shipped their parents off to assisted living facilities.
There is a generational struggle going on. On one side you have the Cold War Generations; fitfully trying to come to terms with a world in which there is no great enemy, no terrible threat of total annihilation. And on the other you have the Millennials; optimistic, happy, filled with new ideas. We will see the generations before us buried. But we'll do our best to see that you have good lives before we do.
Consider this before you leave. Half of the recent college graduates in the Millennials are either jobless or underemployed. Interest rates on student loans is about to double (and we have on average over $24,000 in debt). So you've got well-educated people facing an enormous debt increase combined with a lack of resources to address that debt. Now think about the possible outcomes.
Millennials Will Be the Optimistic Generation

,