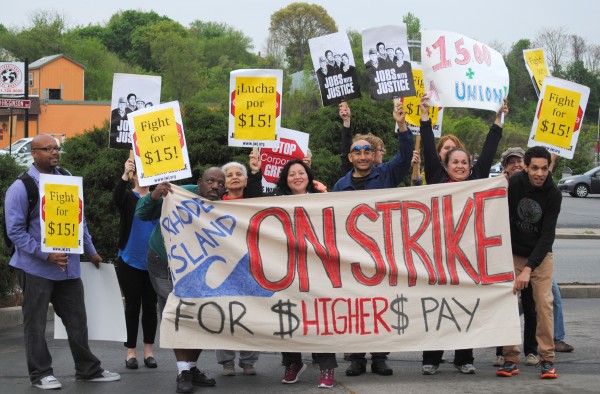 While the focus has been on fair wages for Providence hotel workers, the state Senate yesterday passed a bill that would increase the minimum wage statewide from $8 to $9 an hour.
A similar bill in the House would still need to passed out of Labor Committee, according to a Senate press release. House spokesman Larry Berman said a similar bill will be acted on next week, according to the Providence Journal.
"Nobody should be working a full-time job at a wage that keeps them in poverty," said Senator Erin Lynch, in a press release following the 31 to 5 vote. "Individuals working minimum wage jobs in the state, jobs that are absolutely vital to keep our economy running and many businesses functioning, need to earn a fair wage."
Voting against the minimum wage increase were Senators Allan Bates (R-Barrington), Nick Kettle (R-Coventry), Mark Cote (R-N.Smithfield), Ed O'Neill (i-Lincoln) and Lou Raptakis (D-Coventry), who suggested a more modest increase to $8.25.
The House version of the bill, sponsored by Rep. David Bennett (D-Warwick), is still before the House Labor Committee, where it was heard on Feb. 4.
The Senate press release includes an overview on minimum wage changes throughout New England.
Raising Rhode Island's minimum wage, said Senator Lynch, would keep the state even with or close to nearby Massachusetts and Connecticut, states with which Rhode Island is often compared and contrasted.

In Connecticut, for instance, a recently enacted law raises that state's minimum wage from the current $8.70 to $9.15 on January 1, 2015; then to $9.60 on January 1, 2016, and $10.10 on January 1, 2017.

The Raise Up Massachusetts ballot initiative will, if approved, raise the Bay State's wage from the current $8 to $9.25 at the beginning of 2015, and to $10.50 beginning in 2016. Beginning the following year, the minimum wage in Massachusetts would be tied to the cost of living. The ballot initiative would also increase the hourly wage of tipped workers to $4.15 in 2015 and to $6.30 the following year.

The minimum wage of the other New England states is: Vermont, $8.73, with an increase to $9.15 scheduled in 2015, then to $9.60 in 2016, to $10 in 2017 and to $10.50 in 2018; Maine, $7.50, and New Hampshire, $7.25. The federal minimum wage, which has not changed since 2009, is $7.25.
Meanwhile, a controversial House budget provision to block minimum wage increases at the municipal level has made more national news than it has local news, being covered recently by The Nation and Huffington Post.