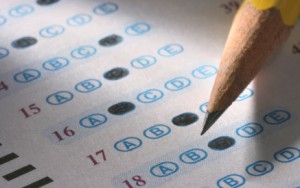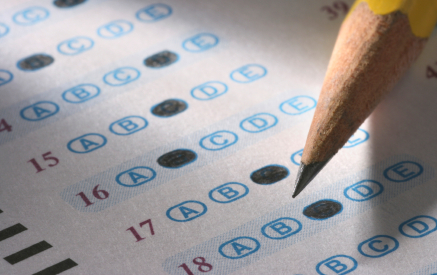 Earlier this year, the "nonpartisan" (*cough*) Rhode Island Center for Freedom and Prosperity (RICFP) released a report, "Closing the Gap:  How Hispanic Students in Florida Closed the Gap with All Rhode Island Students," which purported to explain "in some detail why Florida's reforms, while benefiting all students, have been especially beneficial to disadvantaged students."
I was immediately intrigued because the claim runs counter to everything I know about the effects of the high-stakes testing, especially on students such those with learning disabilities or students in many predominately minority communities (see "High Stakes Testing: Not So Hot"). What I found though was nothing but a rehash of the standard right-wing talking points framed as "so sensible and obvious" that they needed no explanation, coupled with demagogic appeals to save a poor immigrant girl, hopelessly struggling for a better life. So much for answering the question why. I'd have to look elsewhere.
Consider a typical claim from the report:
Florida's 4th grade Hispanic students scored about two grade levels below Rhode Island's reading average for all students in 1998 and improved to match RI's achievement level by 2009.
Rhode Island's 4th grade Hispanic students reading average score is 16 points lower than their peers in Florida, roughly the equivalent of one-and-a-half grade levels worth of progress.
Sounds good, but that's not a detailed explanation of why. Can high-stakes testing do all that? The answer is all too predictable and conveniently omitted from the statistical analysis of the Rhode Island fringe-right.
Researcher Walter Haney has debunked claims that Florida is closing the racial achievement gap, showing that narrowing of test scores on the National Assessment of Educational Progress (NAEP) appears to be caused primarily by a massive increase in grade retention.

In August, Florida Governor Jeb Bush and New York Mayor Michael Bloomberg coauthored a Washington Post opinion column touting their "successes" in closing race-based achievement gaps. Indeed, according to the 2005 NAEP results, Florida had shown remarkable improvement in 4th-grade results and appeared to have significantly reduced the gap between white and minority students.

Boston College Professor Walter Haney, however, looked at the NAEP scores on which Bush and Bloomberg based their claims and at Florida enrollment numbers. He found a troubling explanation for the apparent improvement: The state has been forcing unprecedented numbers of minority pupils to repeat third grade, on the order of 10 to 12 percent, meaning that fewer low-scoring students enter grade 4 at the normal age.

In a report titled, "Evidence on Education under NCLB (and How Florida Boosted NAEP Scores and Reduced the Race Gap)," Haney wrote, "It turns out that the apparent dramatic gains in grade 4 NAEP math results are simply an indirect reflection of the fact that in 2003-04, Florida started flunking many more students, disproportionately minority students, to repeat grade 3." Percentages of minority students flunked were two to three times larger than percentages of white children forced to repeat grade 3. Haney says this likely explains the striking decrease in the race-based score gap.
But isn't "getting tough" the help these kids need? Unfortunately that also is unsupported by evidence, but it does make the stats look good to those not paying too close attention (or to those on the right with a different agenda).
Haney notes that making students repeat a grade based on test scores has been shown by many researchers to be ineffective at improving achievement over the long term (see "Grade Retention," this issue). It does produce increased scores in the repeated grade, and in some studies it has shown to produce increased scores in the subsequent year or two. This means that students who enter grade four after spending a second year in third grade are likely to score somewhat higher than if they had not repeated grade 3. But within a few years any academic gains disappear, as Chicago researchers documented in that city (see Examiner, Spring-Summer 2004).
Yes, lies, damn lies, and statistics. That's bad news for the very kids we're supposed to be trying to help and exactly the type of ethnic cleansing of the public schools warned of by progressive reformers.
One Florida superintendent observed that "when a low-performing child walks into a classroom, instead of being seen as a challenge, or an opportunity for improvement, for the first time since I've been in education, teachers are seeing [him or her] as a liability" (Wilgoren, 2000).
Perhaps most interesting are the reforms the report intentionally ignores. The RICFP tries to paint this as a debate between those advocating positive change and those who "defend the status quo of failing schools," in fact much of the "study" is dedicated to beating that tired drum, but what's clear is that it's only specific changes that are considered by the proponents of corporatization. Consider this section:
Florida's Public Schools Chancellor Michael Grego attributes their success to rigorous standards for all students, teacher training focused on instructing non-English speakers and programs such as dual language classes where English speakers learn Spanish and vice versa." [emphasis in the original]
Bilingual education for all students?! That's an idea which might just have some merit, but you won't find that in this report's foregone conclusions. Anything not fitting the corporate model is unceremoniously discarded. Never mind that their own report contains this gem:
"The numbers suggest that the persistent gap has more to do with the language barrier among a subset of that group. There are some four million Hispanic students in public schools whose primary language is not English. The NCES report showed an even larger difference between those students, known as English language learners or ELL, and their Hispanic classmates who are proficient in English. For example, in eighth grade reading, the discrepancy between ELL Hispanic students and non-ELL Hispanic students was 39 points, or roughly four whole grade levels." [emphasis added by RICFP] (Source: Webley, Kayla, "The Achievement Gap: Why Hispanic Students Are Still Behind," June 23, 2011, TIME, U.S.)
Oddly that quote is preceded by the highlighted comment, "Florida's success can be attributed to rigorous standards for all students, regardless of race." Yes it can, but only by ignoring all evidence to the contrary. They later do just that, concluding, "it is long overdue that we step away from pointing to poverty, lack of parental involvement, or language barriers as excuses for lackluster student achievement."
The report continues along this curiously contradictory path in discussing the question "Do Disabilities Inhibit the Capacity to Achieve?" As a parent of dyslexic children, let me answer this one outright:  as measured by standardized testing, absolutely. Yes, students can improve but that doesn't change the inherent unfairness in judging them solely on this basis. As the report concludes in the section on student outcomes for children with disabilities, "those who are most poorly served by traditional district schools are most likely to transfer to a better school." It's small wonder given the alternative of the thin gruel of glorified test prep. Surprise, surprise! Forcing these kids out of the public schools raises test scores. Problem solved (well, at least if you're the beneficiary of those public dollars now privatized).
I have to admit that as a parent of dyslexic children their proposal to offer vouchers to special needs children to attend alternative schools has some appeal, especially given the extreme focus on high-stakes testing currently in vogue in RI public schools under Education Commissioner Gist (my daughter attends a school for dyslexic children and my son is likely to attend next year).  This is something perhaps to be considered, although I have reservations that this may be a stalking horse for full privatization efforts at some later date.
In any case, as progressives, we need to do all we can to prevent the mistakes of Florida's "Lost Decade" from being repeated here in Rhode Island (for more see "NCLB's Lost Decade for Educational Progress:  What Can We Learn from this Policy Failure?").